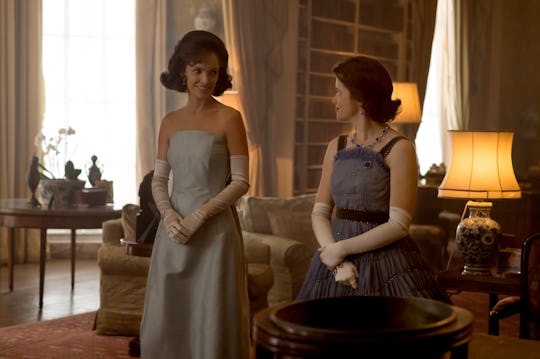 Alex Bailey/Netflix
'The Crown' Explores Queen Elizabeth's Relationship With Jackie Kennedy
The royal meeting to end all royal meetings happened when the Kennedys went to visit Queen Elizabeth and Prince Philip at Buckingham Palace. So naturally that visit was captured in the series The Crown. Because of that, you may find yourself wondering: were Queen Elizabeth and Jackie Kennedy friends in real life? Not exactly. The show depicts the two women as both rivals and friends. While this may be true, the historical record of their relationship doesn't confirm everything that happened in the series. Warning: spoilers for Episode 8 ahead!
In the show, everyone at Buckingham Palace is a-flutter when they learn that John F. Kennedy and his wife Jackie Kennedy would be arriving in London for a visit. The Queen has agreed to a "casual" banquet with the famous couple, as opposed to a formal state dinner. Elizabeth, by the way, is the only one not overly excited for the Kennedys to visit. "It's like royalty," Prince Philip jokes, himself eager to to sit next to Jackie, who is said to have "dazzled" in Paris. Elizabeth, known to be somewhat of a wallflower and extremely shy, becomes jealous of the First Lady, which dissipates somewhat when the two of them bond during the Queen's tour of the palace.
However, the warm, fuzzy feeling Elizabeth has about the First Lady does not last long when she later learns that Jackie said some pretty nasty things about her at a dinner at the Radziwills — Princess Lee Radziwill was Jackie's sister. In the show, Jackie called Buckingham Palace "second rate, dilapidated and sad, like a neglected provincial hotel." She referred to the Queen herself as "a middle-aged woman so incurious, unintelligent and unremarkable that Britain's new reduced place in the world was not a surprise but an inevitability." Upon hearing this, Elizabeth dryly remarks that they "must have her again soon," and promptly gets on a plane to Ghana where she dances a foxtrot with the country's leader, thus solving an international crisis and proving she's not so unremarkable after all.
In real life, Mrs. Kennedy did make a few less-than generous comments about the Queen, but not the exact words shown in the series. According to a biography of Jackie Kennedy by Sarah Bradford tited America's Queen, there was some initial hesitation about inviting the Radziwills to the dinner because they were both divorced, and by now everyone knows how the royals feel about divorce. The First Lady reportedly told her friend, writer Gore Vidal, that the Queen "had her revenge," by not inviting Princess Margaret or Princess Marina, both of whom Mrs. Kennedy had specifically requested. "No Margaret, no Marina, no one except every Commonwealth minister of agriculture they could find," she reportedly told Vidal. She called Queen Elizabeth "pretty heavy-going" and felt "resented" by her.
Cecil Beaton, who has appeared on The Crown, recorded in his journal that the First Lady told him she was unimpressed with the Queen's hairstyle, her dress, and the palace furnishings.
In the show, once Mrs. Kennedy realizes that her mean-spirited comments have made their way back to the Queen, she requests a private audience. She explains that she was in the middle of a terrible time with her husband and that she was most likely high on something given to her by Dr. Max Jacobson, a real doctor who, according to New York Magazine, was allegedly known to give amphetamines to his famous clientele.
In the end, Elizabeth seemed to appreciate the apology and the two appeared to be much closer by the end of the episode. As far as their real life counterparts go, there is no official record of either woman's personal feelings about the other, so I can't tell you for sure whether they regarded each other as friends at all. It would be nice if they did, though.
Check out Romper's new video series, Romper's Doula Diaries:
Watch full episodes of Romper's Doula Diaries on Facebook Watch.