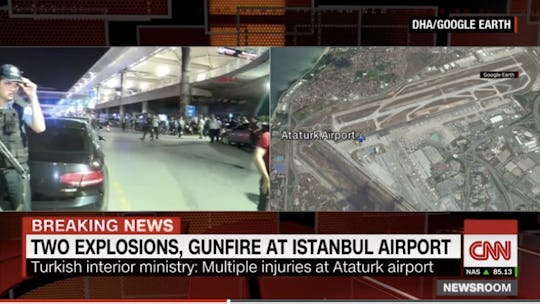 CNN screengrab
Were The Istanbul Airport Explosions The Work Of ISIS? Experts Believe So
Chaos rocked Turkey's capital city on Tuesday after multiple explosions detonated at the Istanbul Ataturk International airport. Three suspects blew themselves up in twin suicide bombings, killing at least ten and injuring scores more. Many now speculate that the Istanbul airport explosions were the work of ISIS, although no official claim has been made by the terror group.
Update, 7:17 p.m. ET: Istanbul's governor says at least 31 people were killed in the Istanbul Ataturk airport attack, and at least 60 were wounded, according to the Associated Press. Authorities believe there were three suicide bombers.
Update, 6:25 p.m. ET: The Associated Press reports that a Senior Turkish official believes ISIS is behind the attack.
For the past year, police and military have been targeted in bombings by the PKK, the Kurdistan Workers' Party, but a senior U.S. counterterrorism official revealed to NBC news that the Istanbul airport attack "fits the ISIS profile, not PKK," stating:
"There are only two groups capable of carrying out such a large-scale attack. This does not fit the PKK profile, they go after Turkish targets, not international targets."
The attribution of this attack to ISIS also stems from the fact that Tuesday marks the second year of ISIS' declaration of its 'caliphate.' Just two years ago, ISIS leader Abu Bakr al-Baghdadi implored Muslims to congregate within ISIS' own, self-created boundaries and reject globally-acknowledged borders. The caliphate was established to garner support from muslims worldwide.
Attacks of this nature have plagued Istanbul, both by Islamic and Kurdish terror groups. In the Beyoğlu district this past March, a suicide bomber killed five and injured at least 36, though the attack was not claimed by any terrorist organization. This past January, another suicide bomber killed 10 in a separate attack that was believed to be perpetrated by ISIS. This marks the fourth suicide bombing in Turkey this year.
During the attack at Ataturk International Airport, suicide bombers opened fire on civilians. Police retaliated with gunfire in an attempt to stop the attackers. The bombers then detonated their suicide bombs in front of the arrivals hall. The video below appears to show the moment of explosion:
One of Europe's top three busiest airports, Ataturk hosted over 61 million passengers last year. In the United States, the State Department renewed a warning this past Monday that advised Americans against travel to Turkey due to terrorist threats.