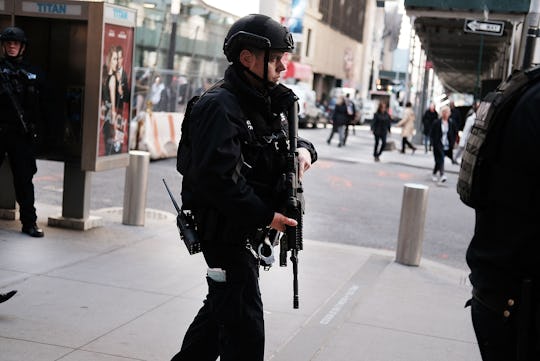 Spencer Platt/Getty Images News/Getty Images
Were There Security Concerns In Belgium Before The Brussels Attacks?
Following the bombings of Brussels' Zaventem airport and Maelbeek metro station on Tuesday morning, which were thought to be the work of suicide bombers, many are wondering: Were there security concerns in Belgium before the attacks? According to Prime Minister Charles Michel, that answer is yes. "We were fearing terrorist attacks, and that has now happened," the prime minister said at a press conference on Tuesday, according to The New York Times.
Security experts have reportedly been warning that more terrorist attacks across Europe were imminent in the wake of the November 2015 attacks on Paris. They pointed to the huge flow of undocumented immigrants into Europe, and issues with intelligence sharing among European countries as key vulnerabilities. Belgium in particular was considered to be at high risk due to its higher proportion of citizens traveling to Iraq, and several Muslim communities which have been known to harbor jihadists. The attack occurred just four days after the Brussels arrest of Salah Abdeslam, who is believed to be the mastermind of the Paris attacks.
According to The Guardian, Belgium's foreign minister Didier Reynders said on Sunday that Abdeslam told authorities he was planning an attack in Brussels. "He was ready to restart something in Brussels, and it may be the reality because we have found a lot of weapons, heavy weapons," Reynders said. He explained that Tuesday's attack may have been carried out by a new network that Abdeslam had been involved with, perhaps as part of a plan he may have allegedly helped orchestrate before he was apprehended.
There's also speculation that the attack might have been carried out not in retaliation for Abdeslam's capture, while others believe his co-conspirators felt pressured to act before Abdeslam could divulge any information on them to authorities (the argument being that he had already backed out of one attack, so the terror network may have feared that he would turn them over in exchange for leniency).
Although France's interior minister Bernard Cazeneuve referred to Abdeslam's arrest as a "major blow" to the Islamic State's European factions, clearly, there's still quite a way to go. The BBC reported that French President Francois Hollande said in a press conference following Friday's arrest that "The battle against terrorism does not end tonight, even though this is a victory."
Hollande acknowledged the importance of Abdeslam's capture, but underscored the severity of Europe's vulnerability to future attacks (although surely he could never have predicted how soon the next one would occur). "We must catch all those who allowed, organised or facilitated these attacks and we realize that they are a lot more numerous than we thought earlier and had identified," he said in a statement on Saturday, according to the BBC. On Tuesday, the French government ordered 1,600 extra police officers to patrol its borders, train stations, and airports — evidence that they're certainly not out of the woods yet, and they know it.