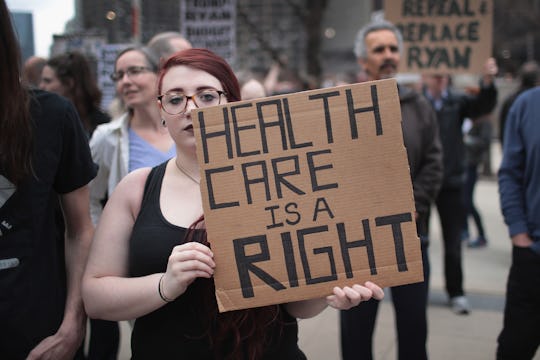 Scott Olson/Getty Images News/Getty Images
ACA Protections Congress Could Still Get, Despite AHCA Passage
In a surprising (or perhaps not so surprising) move reported last month by Vox, House Republicans appeared to have previously included an item that exempted members of Congress and their staff from the latest health care plan. As the AHCA passed in a vote of 217–213 on Thursday, many began to wonder whether members of Congress had squeaked that exemption through as well. As it turns out, the bill the House voted on this week still contained that provision, but Vox also reported on Thursday afternoon that House Republicans later voted unanimously to remove the exemption. So what ACA protections will Congress get to keep under the new American Health Care Act, if that fix doesn't live through the Senate process?
Vox reported that a Republican amendment, introduced on Tuesday night, would have allowed states to waive out of Obamacare's ban on preexisting conditions. But the outlet also reported that members of Congress, along with their staff, would be guaranteed to keep these Obamacare regulations under the AHCA. As a result, New York Magazine wrote, "House Republicans are not only failing to make themselves subject to the same laws as the Americans whose health-care coverage they are seeking to reduce, they are going out of their way to keep Obamacare."
Put short, according to The Hill, the latest bill still originally included an item that would keep Congress and their staffers from losing the most popular provisions of Obamacare. Separate legislation voted on later was meant to close that loophole, and though it made it through the House, it may not make it through the Senate. So really, all of those promises to hold themselves to the same fire they're subjecting the rest of us to might be pointless.
Vox broke it down for readers by explaining that under Obamacare, all members of Congress and their staff were required to purchase coverage through the health law's marketplace. This was likely supposed to show that the coverage was good enough for all Americans, including representatives in Washington.
Under the AHCA and this new amendment, states can opt out of the ban on preexisting conditions, or the ACA requirement to cover things like maternity care or mental health services. Without closing the loophole that allows members of Congress to remain a "protected group" which can't be affected by the the new health care terms, members would still get to keep those Obamacare benefits.
After that loophole was first reported, Rep. Tom MacArthur (R-New Jersey), who authored that exemption amendment, released a statement saying he would close it.
A statement from MacArthur at the time read,
Congressman MacArthur does not believe Members of Congress or their staff should receive special treatment and is working with House Leadership to make absolutely clear that Members of Congress and staff are subject to the same rules, provisions, and protections as all other Americans.
Apparently, according to Vox, an aide in MacArthur's office told the outlet that the provision was inserted at the request of the Senate Budget Committee, in an attempt to comply with the rules of Senate reconciliation. However, an aide with the Senate Budget Committee stated that is not true.
"We did not write it, did not draft it, and did not add it," the aide reportedly said.
The Hill reported that House GOP leaders worked Wednesday night to speed up consideration of the amended American Health Care Act without first posting the bill text, and without a Congressional Budget Office analysis showing the effects of the changes to the legislation. At that time, it still seemed to include the exemption, as MacArthur's amendment called for, that let members of Congress and their staffs avoid losing ACA provisions like the one banning pre-existing conditions.
Newsweek also reported that the loophole is supposed to be closed in a separate piece of legislation now on its way to the Senate. But the fact remains that Obamacare's most popular protections could still be afforded to Congress, but not to the rest of us, in the end. If that doesn't sit well with you, don't worry. It shouldn't.