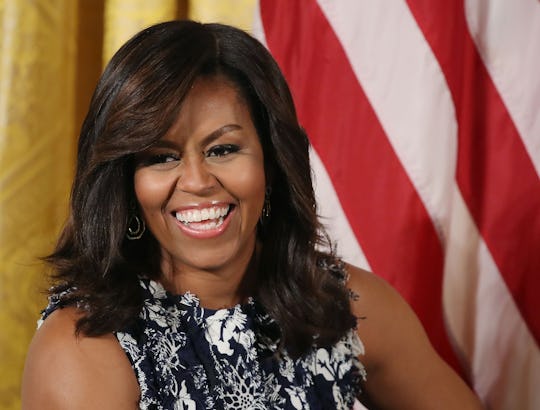 Mark Wilson/Getty Images News/Getty Images
What Advice Did Michelle Obama Give To Melania Trump? Oprah Asks Her About Their Meeting
We've seen the photos from when Michelle Obama and Melania Trump first met at the White House back in November, but many have been curious about what they talked about that day they photographed sipping tea. In her last sit-down interview as FLOTUS, Mrs. Obama opened up to Oprah Winfrey about that conversation after the famed talk show host asked her about what kind of advice she passed on to the incoming first lady. So, what advice did Michelle Obama give Melania Trump? She offered a helping hand to the Trump family as they transition into these prominent and influential roles, telling her the "door is open."
Before the much-anticipated interview aired on Monday evening, CBS released a few clips from their conversation. One of those clips answers this question, when Oprah asked Mrs. Obama if she gave Mrs. Trump any advice as she prepares to leave the White House. The first lady said:
We talked about the kids, you know, but my offer to Melania was, you know, was you really don't know what you don't know until you're here, so the door is open, as I've told her and as Laura Bush told me, and as other first ladies told me. So I'm not new in this "going high" thing, I mean I'm modeling what was done for me by the Bushes. And Laura Bush was nothing but gracious and helpful, and her team was right for my team, all throughout this entire eight-year process.
Although Mrs. Obama certainly did not endorse President-elect Donald Trump during this election season, she graciously said that her team will do the same for the incoming administration as former first ladies did for her when her husband President Barack Obama was first elected, saying that they will do whatever it takes to make sure the Trumps succeed. She told Oprah:
We will do whatever they need to help them succeed. So that's one of the things I said to Melania. When you get to a place when you can digest all this, and you have questions ― because, you know, you don't have questions the day after the election. It's just sort of like, you're looking around the house and it's like, "Well what do you want to know?" And it's like, "I don't know what I should know." And I knew that, so my door is open. That was really the nature of the meeting.
As she prepares to the leave White House in just a few short weeks, Mrs. Obama's invitation to an "open door" of advice to the next first lady was admirable and provides further proof about why so many Americans are going to miss her as FLOTUS.