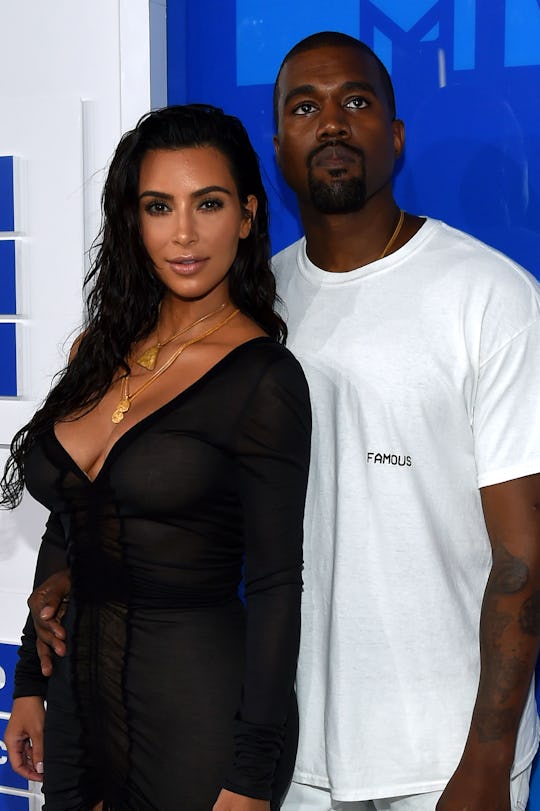 Larry Busacca/Getty Images Entertainment/Getty Images
What Ages Are Baby Yeezy Boosts For? Your Kid Can Learn To Walk In Kanye-Inspired Style
There's no doubt that people freaking love their Yeezy Boost shoes. Ever since rapper Kanye West first debuted his sneaker line at New York Fashion Week in February 2015, his footwear collections have sold out pretty much immediately. So what's a dad-of-two to do next? Start a mini-me collection of sneakers for infants and toddlers, of course. What ages are Baby Yeezy Boosts for? According to Forbes, Yeezy Boost 350 Infant sneakers officially went on sale Saturday, and are essentially a replica of the adult Yeezy Boost 350 sneakers, ranging in sizes 5k to 10k (or roughly 12 months to 3 or 4 years old, according to A Shoe Inn).
According to Adidas.com, Yeezy Boost 350 Infant shoes come in the same two colors as the adult versions — turtle dove and pirate black — and feature "a moccasin-type construction," with "a responsive all-rubber outsole" for traction and a "premium suede overlay on the medial arch" for support. In other words, these are some seriously fancy baby shoes. And, unsurprisingly, they come with a seriously fancy price tag, too: a pair of Yeezy Boost 350 Infant sneakers will put you back $150.
Or at least, they would have put you back that much, if they hadn't sold out practically as soon as they were available. According to Footwear News, the much-anticipated Yeezy Boost 350 Infant sneakers were sold out within only two hours of becoming available in select stores and online at Adidas.com. Those looking to pick up a pair could go online to enter into a virtual queue, where they would then randomly be given access to the product page to make a purchase until there were no more in stock. According to Forbes, customers were also able to "reserve their pairs on the Adidas Confirmed app prior to the general release," and in select cities, it was also possible to reserve pairs for pickup.
But of course, not everyone had to wait in a virtual queue to get their own pair. Friends and family of West and his wife, Kim Kardashian, have naturally been hooked up with some free Yeezys — Chrissy Teigen recently shared a Snapchat pic of her daughter Luna's new Yeezy Boosts, and Kortney Kardashian shared a photo of her youngest son, Reign wearing his own pair. Channing Tatum and Jenna Dewan Tatum's daughter, Everly, also got a pair of the coveted kicks.
And then, of course, there is North West, who is basically the unofficial spokesmodel of baby Yeezys:
The notion of spending $150 on shoes your kid is just going to grow out of in what feels like approximately five minutes might seem totally preposterous (at least, it does to me), but it makes a lot more sense when you factor in Yeezy Boosts' insane re-sale value. If you can prevent your kid from getting them dirty or worn, it's worth considering that infant Yeezy Boosts are selling on eBay for anywhere between $200 to $500 right now. Uh, on second thought, maybe just keep them in the box and break them out for indoor photos or something, because that's crazy.
West hasn't yet commented on whether he plans to release more Yeezy Boosts for infants, but seeing how outrageously popular the 350s have been, chances are there will be more. Until then, the rest of us will just have to wait until our next opportunity to outfit our children in Yeezy finery. Or, you know, just stick with the hand-me-down velcro sneakers your mom-bestie passed on to you, because honestly, they'll do just fine, as far as I'm concerned.