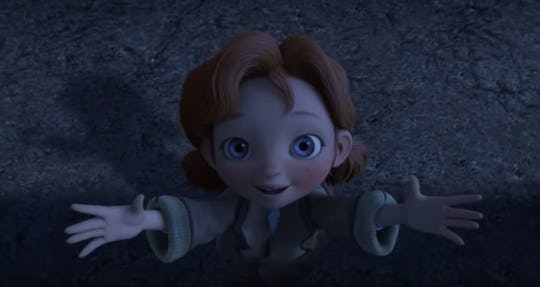 What's On Netflix/Youtube
'Angela's Christmas' Is A Family-Friendly Holiday Treat
As a parent, I know how important it is to filter the content your children watch, including holiday movies. Some films feature material that can be scary for younger kids, so it's a good idea to know before you watch. Netflix's new animated movie, Angela's Christmas, seems to have a pretty innocent premise and tone, but some cautious parents are still wondering what ages should watch Angela's Christmas.
While Netflix hasn't given the film a rating, it does list Angela's Christmas as a family-friendly film. A report by USA Today rates the film as appropriate for children aged 5 and up, but as with any content, it's a good idea for parents to screen the movie before introducing it to their kids. You can get a good idea of what to expect with the movie's trailer, which should give you some insight into its tone and message.
Angela's Christmas - which is based on Pulitzer Prize-winning author Frank McCourt's children's book, Angela and the Baby Jesus — tells the animated story of a young Irish girl named Angela, whose family is getting by with very little means. When visiting her local church at Christmas time, Angela sees that the nativity display's Baby Jesus doll has been left uncovered with no blanket. Fearing that he will suffer in the cold, Angela takes the doll home and promises to keep him safe.
Angela's Christmas looks like a sweet film, and it's message of generosity could make easily make it a family holiday favorite. In the trailer for the film, you can see the innocent, wide-eyed Angela (Lucy O'Connell) going to greet the Baby Jesus with a warm "hello," but she finds that no one has covered him. She snuggles him into her jacket and decides to take him home where it's warm and safe. "I'll get you home, get you all warm and snuggly," she tell the Baby Jesus. "And I'll wrap you up like a little holy sausage."
As she treks home that night, she comes upon obstacles like a horse-driven carriage that nearly misses her and a police constable who questions what she is hiding in her jacket. "I'm not stealing you, I just want to get you warm," she tells the doll. Angela's kindness is super sweet and emotional, but after hearing her mother (Ruth Negga) teach her children a compassionate lesson about family and love, you may find a tear in your eye. "That's what families do," she tells the children. "They shelter each other from the storm, they bring joy where there is sadness, warmth where there is none."
According to Irish Central, the movie is based on McCourt's book, in which the author tells the true childhood story of his mother, Angela, who grew up in Limerick, Ireland. She would often tell him the story of how she stole the Baby Jesus from her church as a child, so he turned her tale into a beloved children's book. McCourt's wife, Ellen McCourt is serving as the film's executive producer, and his 87-year-old brother, Malachy McCourt is narrating.
When speaking to Brown Bag Labs — the studio behind Angela's Christmas — Ellen McCourt revealed that her late husband had always hoped to turn his book into a film. "It was my husband Frank's dream to see this delicate little Christmas story transformed into a classic Christmas tale," she said. "He would be thrilled with Angela's Christmas as is the entire extended McCourt family!"
So for the most part, Angela's Christmas seems like it would be a great holiday watch for the whole family. But if you have very young children, and are still unsure of the material, it's a good idea to screen the movie ahead of time.
This first-time mom wants to have a home birth, but is she ready? Watch how a doula supports a military mom who's determined to have a home birth in Episode One of Romper's Doula Diaries, Season Two, below. Visit Bustle Digital Group's YouTube page for the next three episodes, launching every Monday starting November 26.