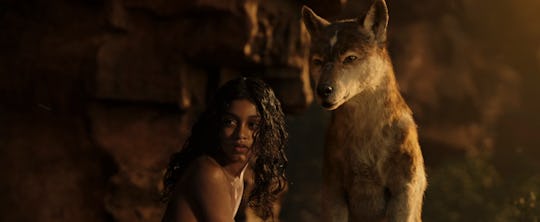 Netflix
Here's What Parents Should Know About 'Mowgli: Legend Of The Jungle'
Netflix's Mowgli: Legend of the Jungle is the second live-action The Jungle Book adaptation to hit screens in the last couple of years, but the new movie is far darker than the Disney version. If you are planning to see it with your kids, you should know what ages should watch Mowgli: Legend of the Jungle first, because it may be too scary for young children.
The rating for Mowgli: Legend of the Jungle is PG-13, which the Motion Picture Association of America classifies as a film where parents are "strongly cautioned" due to material that may be inappropriate for children under the age of 13. The movie may have scenes that will frighten young children, but if you're still interested in watching it as a family, it might be a good idea to screen the film before you show it to them.
Unlike the popular Disney movies you may be familiar with, Mowgli: Legend of the Jungle tells a gritty version of Rudyard Kipling's 1894 classic. In an interview with Deadline, the film's director, Andy Serkis revealed that this incarnation of The Jungle Book is much darker, and that it was never meant for a young audience. "It's really not meant for young kids, though I think it's possible that 10 or above can watch it," said Serkis. "It was always meant to be PG-13, and this allows us to go deeper, with darker themes, to be scary and frightening in moments. The violence between animals is not gratuitous, but it's definitely there."
Serkis said that this film is more in line with the tone of Kipling's book, and that it focuses on Mowgli's internal struggle as an outsider in both the human and animal worlds. He explains that in the book, Mowgli's realization that he isn't a wolf is life-changing, but when he goes to the village, he realizes he doesn't belong there either.
"There is real jeopardy and consequence here, with an emotional resonance meant to be for a slightly older audience than most of the Jungle Book films we've seen," Serkis told Deadline. "That was reflected in the script and how it was cast, and the whole way we approached the design of the animals. The human being and the animals are emotionally truthful, and not in any way were we tipping the wink to the audience that this is a fairy tale."
If the filmmakers were trying to stay true to Kipling's tone, I can see why the movie may be inappropriate for younger kids. The book features elements like hunting, killing, revenge, and death, and while these elements may have been watered down for the Disney versions, Mowgli: Legend of the Jungle keeps their realistic nature at its forefront.
"The Jungle Book is something that you probably read when you're about 12 or 13, you wouldn't try and read that book if you were any younger," Serkis said in an interview with CinemaBlend. "That's the age where — the metaphor of that book and the allegory of the book — starts to unfold, as you get slightly older, and then you go back and reread it, obviously there are other things that you plug into." However, Serkis added that while the film does depict blood and death, it may still be suitable for kids as young as 8, because its gritty scenes aren't "too intense or frightening."
But every child is different, and what may be frightening for some may not be for others. Ultimately, as a parent, you have the best gauge of what is appropriate for your child. So, if you have any concerns, go ahead and jog through the movie yourself, that way you can make the best decision for your family.
Mowgli: Legend of the Jungle premieres on Netflix on Friday, Dec. 7.
This first-time mom wants to have a home birth, but is she ready? Watch how a doula supports a military mom who's determined to have a home birth in Episode One of Romper's Doula Diaries, Season Two, below. Visit Bustle Digital Group's YouTube page for the next three episodes, launching Mondays in December.