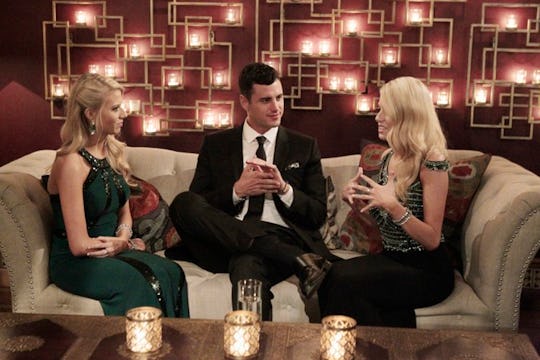 Rick Rowell/ABC
What Are 'Bachelor' Twins Emily & Haley's Real Occupations? The Girls Lead Very Busy Lives Outside The Show
If you watch closely, two contestants on The Bachelor, twins Emily and Haley Ferguson, have "twin" listed as their job. But that can't be what the Bachelor twins' real occupations are... right? It's 2016 so it's likely that the ladies have more going for them than just their mere existence. In reality, the girls actually lead pretty busy lives, working as cocktail waitresses at the Cosmopolitan La Marquee in Las Vegas, according to Reality Steve.
But that isn't all the girls do: They also run a lifestyle blog together with a friend and post makeup tutorials on YouTube — so if their eyeliner looks particularly amazing, you can probably recreate it by following along on their channel.
The girls' blog, Blondesense, is actually really great. They write about fashion, beauty, recipes, and just general good things. It's also up to date with this season of the show as the ladies recap all the episodes and offer insider info. If you want to get into a clickhole, go right ahead (and please make me some of the desserts in their recipe box, because they look scrumptious).
The girls, along with their co-blogger and "lifelong friend" Mace Camp, post almost daily. They're also all over Twitter and Instagram so if you need more twin action in your life, you will not be at a loss.
Along with waitressing and writing, the sisters seem pretty intent on making this reality TV show thing work for them. In addition to this season of The Bachelor, they've also been contestants, together, on a CMT show about trying out for the Dallas Cowboys cheerleading squad. That makes a lot of sense, because both girls are pretty athletic. In episode three's soccer game, Emily was basically the MVP. Even the girls were proud of themselves, writing on their blog,
Every time we thought the game would be over, Emily would make another block and all the producers would fall to the ground, because they just could not believe how amazing Emily was at playing soccer!
Both ladies are smart, funny, and really well-rounded. So it's super odd that they're into just listing "twin" as their occupation. The Bachelor is known for goofy job listings, like "dog lover," or "jumbotron operator", so I guess you can add "twin" to that list (even if they're actually pretty spectacular people).
Of course, the ladies probably have no say in how the producers want to portray them on the show. But "twin" sounds a little more demeaning than "jumbotron operator." At least that's a job one can actually have. If the producers get a kick out of the occupations, they should do it for all the contestants instead of just picking a few girls each season.
Don't let the silly job listing fool you, then. Emily and Haley are a force to be reckoned with — let's just hope they don't have to fight over a rose down the line.
Image: Rick Rowell/ABC; Giphy (1)