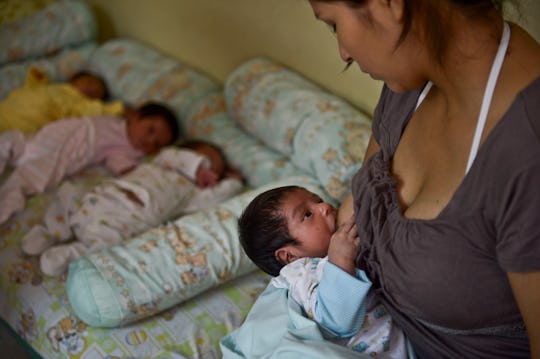 AFP/AFP/Getty Images
What Are Breastfeeding Laws In Other Countries? A Breakdown Of Nursing Around The World
American women have fought long and hard for breastfeeding rights. Even today, you will still hear stories about moms being shamed for breastfeeding their children. Thankfully, the majority of this country protects breastfeeding mothers, giving them the right to nurse their children in public. Most American workplaces allow their lactating employees to pump at work, and many public buildings are equipped with nursing rooms available for a mother's convenience. But, if you are a breastfeeding mother who will be traveling or even moving to another country, you will want to research what the breastfeeding laws are in other countries.
It's important to know what to expect and how to follow the local laws when you are abroad. Many foreign governments enforce regulations based on religious and cultural beliefs, which can be very different than what you are used to here in the United States. Some cultures may value breastfeeding, but consider nursing in public to be indecent. Other cultures may have such deep rooted history of breastfeeding, that mothers feed their babies anywhere and everywhere without a second thought.
Organizations such as La Leche League International and Save The Children are doing their part all around the world to educate on the importance of breastfeeding. Here are some of the breastfeeding laws you will find in other countries.