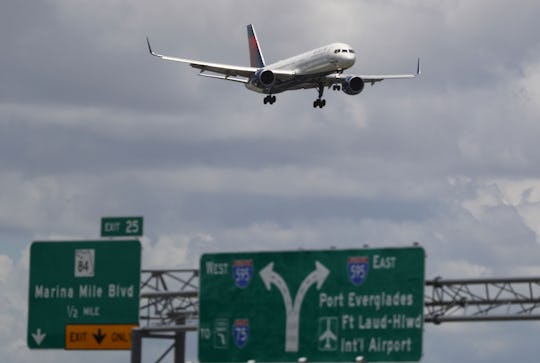 Joe Raedle/Getty Images News/Getty Images
Fort Lauderdale Brings Florida's Gun Laws To Light
On Friday afternoon a lone gunman entered the Fort Lauderdale-Hollywood International airport in Florida and opened fire, killing five people and injuring an additional eight. The gunman is in custody and additional information, including his name and occupation, are being released. As the nation collectively digests another mass shooting, many are left wondering, "What are Florida's gun laws?" and looking for any way this tragic loss of life could have been prevented.
Currently it is Jan 6th, 2017, and already there have been six mass shootings this year. That's one shooting for every day we've seen of 2017, so far. While the United States makes up only 5% of the world population, it accounts for 31% of the world's mass shootings. As mass losses of life due to gun violence has become, sadly, somewhat of a "norm" in this country, the debate regarding common sense gun laws and the so-called attack on the second amendment rages on. Which is why, of course, it's not uncommon for people to take a look at the respective state's gun laws after another mass shooting has occurred. What makes this shooting, in particular (although all losses of life are heartbreaking) so worrisome, is the location. Airports aren't considered "normal" shooting locations, thanks to their high levels of security.
Which is why the fact that Florida lawmakers were considering a bill that would allow guns in airports all the more infuriating and perplexing.
Florida has, arguably, one of the more lax state gun laws in the country. For example, it's considered a "shall issue state," meaning Florida will issue a concealed carry license to both residents and non-residents alike. So, in the state of Florida, a non-resident is legally able to carry a concealed weapon as long as they're 21 years of age or older and is in position of a valid license to carry a concealed weapon issued in their respective state of residence. Florida has also issued more concealed carry permits than any other state in the country, probably because of their current gun laws.
Furthermore, on New Year's Eve gun advocates sent an email in support of the "most important pro-Second Amendment rights bill of the 2017 legislative session." The bill, SB 140, would repeal current state laws that forbid guns on college campuses, government meetings, and, yes, airport terminals.
The pro-gun argument that "more gun-carrying people deter mass shooters" seems to fall short in the state of Florida; a state where so many of their residences have concealed carry permits. As more information regarding the deadly shooting is released, and the debate on gun control in this country is (once again) reignited, we can all collectively be sure of one thing: there won't be a shortage of "thoughts and prayers."