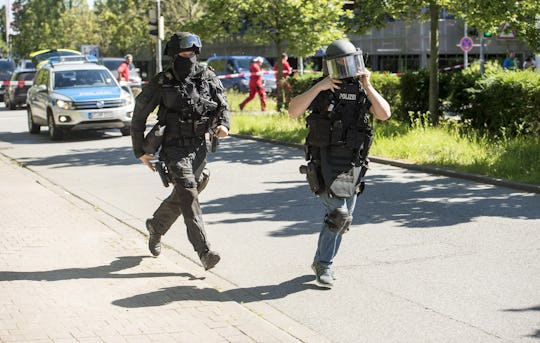 Alexander Scheuber/Getty Images News/Getty Images
What Are Germany's Gun Laws? Recent Events Have People Wondering Where The Country Stands
UPDATE: The Associated Press and Reuters reports no serious injuries during the movie theater incident in Viernheim, Germany. The gunman, who took theater-goers hostage, has been killed by police, according to authorities.
Tragedy struck Germany Thursday when an armed gunman opened fire at a cinema in Viernheim, a small town near Frankfurt. This incident, combined with the June 12 attacks at Pulse nightclub in Orlando and the ongoing democratic sit-in for gun-control legislation, has many wonder what are Germany's gun laws and could this incident have been prevented.
According to initial reports from the BBC, the masked gunman fired shots at the Kinopolis cinema complex Thursday afternoon. Additionally, Time reported that, after firing his gun, the man released teargas in the theater. Though initial reports estimated anywhere form 20 to 50 people has been injured, there are no serious injuries reported at the time. The incident, which began at around 3 p.m. German time, ended roughly two hours later when police shot the gunman dead after storming the theatre, according to Reuters.
Although shootings seem to happen fairly frequently in some parts of the world, The New York Times reported that Germany has not experieince a shooting since March 2009, when a teenage gunman opened fire at his school in Winnenden and killed 15 people. Given that it's been more than six years since a mass shooting occurred in the country, many would assume that Germany has some seriously strict gun laws. And, in fact, they do.
According to the Library of Congress, Germany's gun control laws are "among the most stringent in Europe."
It restricts the acquisition, possession, and carrying of firearms to those with a creditable need for a weapon. It bans fully automatic weapons and severely restricts the acquisition of other types of weapons. Compulsory liability insurance is required for anyone who is licensed to carry firearms.
In addition to keeping the laws strict, the German government seems too reevaluate and update it's laws after a shooting occurs within the country. Following the 2009 shooting in Winnenden, The New York Times reported that Germany instituted a federal gun register and intensified the monitoring of gun owners' compliance with the safety laws.
Though these strict gun laws do not eliminate death by guns all together, it does decrease them drastically. According to the site Gun Policy, total number of gun deaths in Germany decreased from 1,061 to 819 between 2002 and 2012. In that same time span, total number of gun deaths in the United States increased from 30,242 to 33,563. A scary statistic, yes? But, unfortunately, a statistic that has many people saying that guns aren't the problem — people are.
And, in truth, it may be a little bit of both. In spite of strict laws, people who shouldn't have guns still manage to get their hands on them. But by working to reinforce and reevaluate gun laws around the world, it will make it much harder for those people to obtain weapons and create this type of mass destruction.