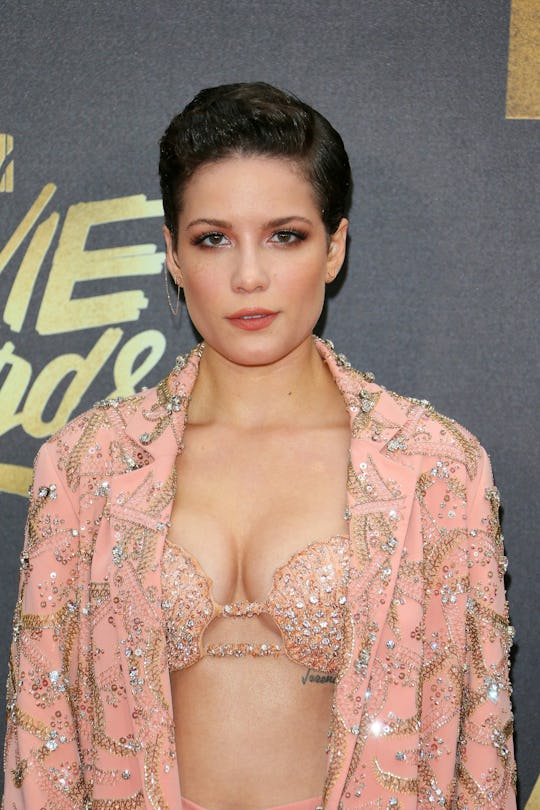 JEAN BAPTISTE LACROIX/AFP/Getty Images
What Are Halsey's Tattoos? They're All Fairly Personal
Indie artist Halsey showed up at the MTV Movie Awards in a soft pink, glittery outfit on Sunday, where fans may have caught a glimpse or two of a tattoo (or two). Halsey actually has over ten tattoos, and they all either symbolize something or tell a part of her story — she even got matching tattoos with three of her fans at one point. So, what are Halsey's tattoos? Sit back, get comfortable, and maybe get ink-spired (and please forget I ever made that dad joke).
Halsey's own tattoo inspiration was actually her mother, with whom she shares ink. "The first tattoo I ever got was on my foot," she told iHeartRadio News, in an interview. "It's an anchor, and it has my mom's initials in it, and she has the same one." She continued,
I was really young to have a tattoo, but my mom is covered in them. ... She's super, super cool, really beautiful, and always had tattoos when I was growing up. So I think looking up to her, I always saw it as an artistic thing. My mom's really artistic and just really, really badass. So I begged her, and begged her, and begged her to let me get a tattoo, and she took me to get one as almost like a fear tactic. She was like "Yeah, let's go get anchors on our feet." And what I didn't know is the foot is one of the most painful spots you can get a tattoo. So she took me to get a tattoo on my foot hoping that it would deter me from getting more because of how bad it would hurt, and it totally backfired on her. It just absolutely backfired. I was like "This is great! I want to get more!"
So how many other tattoos did Halsey get after her mother's scare tactic backfired? Plenty (Mothers who want to scare their children off tattoos, take note):
Her Serendipity Tattoo
The other tattoo that Halsey displayed front and center on the red carpet was her "serendipity" tattoo, which sits just below her left breast. She had the script inked on in July 2014, sharing it on Instagram shortly after with the caption, "Love this little new jam."
Her Shakespeare Quote
"This tattoo is a little heavy, and a little heady to talk about, but I got it as a reminder to myself to sort of pace myself," Halsey told iHeartRadio. She said the Romeo and Juliet quote was fitting. "I'm a lover of literature so it makes sense for me. But pretty much what it means is anything you do violently, will end violently. And it doesn't mean physical violence. It more refers to excess I believe."
The Tattoo She Got With Her Fans
Halsey picked three of her fans from Twitter and got tattoos of matchsticks with them, to symbolize potential. "When I think I've reached my potential, I'll probably go back and get a flame put on it," Halsey told her fans in the VEVO video. "And I encourage you guys to do the same."
A Little Sibling Love
Halsey's brother was born on May 5, so she commemorated the date with a tattoo. She captioned this Instagram shot with a happy birthday wish to her brother, along with, "Today is so special to me I've had it tattooed on my body for years."
The Unlucky Horseshoe
As Halsey told iHeartRadio in the aforementioned interview,
In tattoo culture, you're not supposed to tattoo a horseshoe upside down because it means all the luck is spilling out, so it's actually bad luck. I got an upside down horseshoe to signify that I don't need luck. I work really, really hard, and I believe in the stars aligning, but I don't believe that anything happens to anyone based out of sheer luck.
What a rebel.
Her Lucky Number
Perhaps she needed the lucky number to counteract the unlucky horseshoe.
Her Astronomical Ink
According to iHeartRadio, Halsey and a friend from her time on the Warped Tour got these tattoos at the same time:
I got Mars because I met a guy on tour that I became really good friends with, and his birthday is on my half birthday, and I'm a Libra. So my ruling planet is Venus, and his ruling planet is Mars, which are also opposites. So it's like opposite birthdays, opposite signs, technically opposite personalities in astrology, but complete opposites, and we were really good friends. So I got Mars, and he got Venus. We got each other's planets.
This Tattoo is Everything
Halsey didn't delve into an explanation of this tattoo when she posted a snap of it on Instagram, simply captioning it, "Fresh joint. #EVERYTHING." However, Twist Magazine claims she commented on another picture of the tattoo that the artwork wasn't of her (i.e., Halsey's not saying she's everything, folks.)
The Triple X Tattoo
She captioned her Instagram shot: "Now I'm the human version of a parental advisory sticker."
That's not all for Halsey. She's also got a Star Wars tattoo (yep, she's a hardcore fan), a rose tattoo on her shoulder that she says doesn't have a meaning, a dagger that she had tattooed in memory of a friend who passed away, and the word "Ferox" tattooed on her thigh. What does "Ferox" mean? Halsey explained succinctly on Twitter, "It means fierce in Latin and it was given to me with a sewing needle, India ink, and a lot of vodka."
Halsey's definitely got a ton of gorgeous tattoos. Any guesses as to what the next one will be?