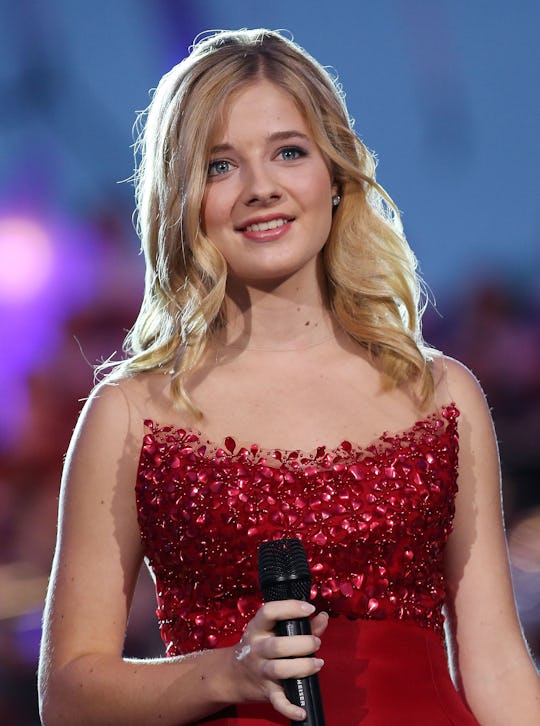 Paul Morigi/Getty Images Entertainment/Getty Images
Jackie Evancho's Views On Transgender Rights
Much has been said about the rumored difficulty President-elect Donald Trump's team has had trying to line up performers for his inauguration Jan. 20. Countless celebs have reportedly declined offers, and though the inauguration is only a week away, the lineup still only includes a few confirmed performers. 16-year-old America's Got Talent alum Jackie Evancho is currently the only solo act set to appear — she will be singing the national anthem, according to The New York Times — but Evancho's decision isn't necessarily an endorsement of Trump. What are Jackie Evancho's views on transgender bathroom laws? Although it wouldn't have seemed totally unreasonable to assume that she might share the GOP's anti-LGBTQ perspective, she actually has at least one very important reason to be against them: her transgender sister, Juliet. Evancho's rep didn't immediately respond to Romper's request for comment.
It honestly seems kind of shocking to hear that one of the few people who has been willing to attach her name to the Inauguration Day lineup could have such a personal connection to the fight for transgender rights. After all, Republicans have staunchly fought against equal rights for transgender Americans — particularly Vice President-elect Mike Pence, who will also be sworn in on Jan. 20. Pence has long fought against LGBTQ rights, according to TIME, and even specifically criticized Obama's May 2016 directive calling for school boards to allow students to use the bathroom of their gender identities.
Pence's position on transgender students using bathrooms seems like something which could have, in itself, kept Evancho from wanting to participate in the inauguration entirely. In a recent interview with The New York Times, Jackie and Juliet spoke about the discrimination Juliet faced when she came out in 2015, with the super-close sisters discussing the way that Jackie would accompany Juliet to the school office whenever another student called her names. But that's not all: the Evancho family is actually currently involved in a legal battle with the girls' Pennsylvania school district over Juliet's right to use the women's bathrooms — the very thing Pence thinks she should not be allowed to do.
The fact that the Evanchos are suing over transgender rights seems so ironic that it's impossible not to wonder if perhaps Jackie's decision to perform is really some kind of subverted attempt to make a point about transgender rights — what better platform to denounce Trump's views than being the one solo performed who agreed to sing at his inauguration? But Jackie insists that she doesn't see her performance — or even her support of her sister and her family's lawsuit — as a political move. She told The New York Times, "I just kind of thought that this is for my country. So if people are going to hate on me it's for the wrong reason."
Juliet first came out publicly as transgender in 2015 after attending the Global Lyme Alliance's inaugural gala with Jackie, who was slated to perform. In an interview with People, Juliet said at the time that she had always played dress-up and Barbies with her sister when they were little, and liked wearing makeup and princess dresses. After the girls' mother, Lisa, suggested to her then-13-year-old daughter that she could be transgender, Juliet said she "did a bunch of research," adding, "I knew deep in me that this was not me, and I needed to make the change."
Juliet told People that her parents and siblings were very supportive, and that Jackie was the first person she told after her mom. And although the girls' dad, Mike, was reluctant to discuss his political views with The New York Times ahead of the inauguration, he told People in 2015 that he couldn't understand the logic behind anti-LGBTQ views:
Anybody that says, whether it's transgender or homosexuality, is a choice? They don't have their head screwed on tight enough. It's human nature to want to take an easy road, so why would someone choose to take the hard road knowing they're going to face ridicule, knowing they're not going to be accepted by everybody?
He also told the magazine that the family's choice to speak openly about Juliet's transition was in part to offer support to other transgender teens and their families:
In the transgender community, the suicide rate is extremely high. Our hope is that by Juliet sharing her story and seeing that even a Catholic family such as ours can accept their child, that hopefully it can help at least one person learn to be able to accept who they truly are instead of going the way of suicide or trying to mask who they are on the inside with drugs and alcohol.
Juliet told The New York Times that she will not be attending the inauguration due to "prior engagements," but that she will be there for her sister "in spirit." And despite the apparent clash in views between the Evanchos and the Trump administration, it turns out that Jackie's performance won't actually be the first time she's performed for a public figure who has spoken out about transgender rights — though she may not have realized it at the time.
According to The Morning Call, Jackie performed for Pope Francis in 2015 as part of the Festival of Families event. While Pope Francis has been considered to be progressive, and has been lauded for his stance on homosexuality, he was criticized in 2016 for claiming that being transgender is "against nature," according to CNN. He also denounced the idea that children should be allowed to live according to their gender identity, and argued that teaching concepts of gender identity to children is a form of "ideological colonization."