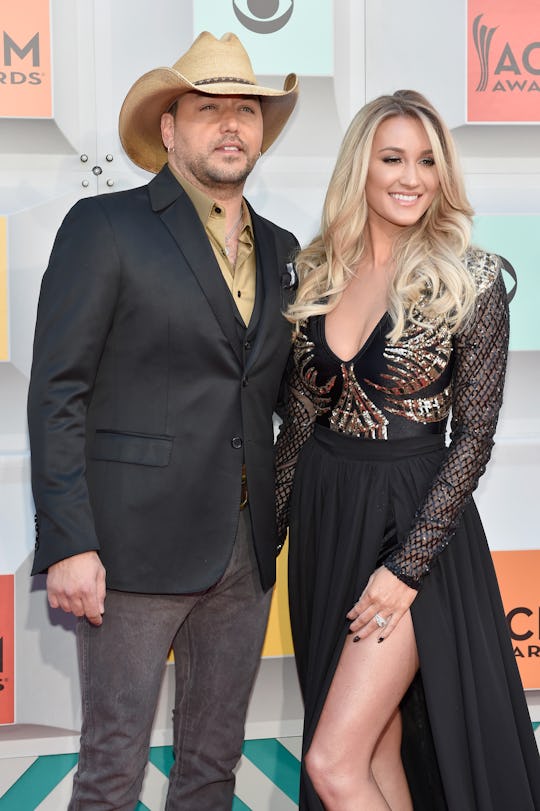 David Becker/Getty Images Entertainment/Getty Images
Jason & Brittany Aldean Just Announced Their New Daugther's Name
It's been a big year for celebrity babies, and it's not over yet. When a public figure announces that they'll be expanding their family, so many questions swirl amongst fans: When is the baby due? What will their name be? How absolutely adorable will their nursery decor turn out? Will they follow in their famous parents' footsteps? Though there's a lot left unanswered, fans are marveling over Jason Aldean's newest family announcement. What are Jason & Brittany Aldean naming their daughter? The couple just made the announcement on social media.
On Sunday, Nov. 4, Brittany Aldean — who also goes by her maiden name, Brittany Kerr — announced that her second baby with husband Aldean will be named Navy Rome Williams, People reported. The couple decided to share the news in a super creative way, having Aldean daughter Kendyl, whom he has from a past relationship, share the news on her Instagram story. Once the big reveal was made, Kerr shared photos from her baby shower, at which there was a neon sign reading the name: "Navy."
Fans immediately started responding to express their appreciation of the super unique choice of name. "We can't wait to see you baby girl! Such a unique and pretty name and middle name. Thank you for sharing with us!!" one comment read. "What a sweet name!" said another. A few other fans pointed out that the baby's last name is "Williams" as "Aldean" is actually a stage name.
The Aldeans announced their second pregnancy together in July of this year, The Tennessean reported.
After giving birth to the couple's first child together, Memphis, Kerr announced that she was expecting a daughter this summer. To share the happy news with fans, Aldean simply posted a photo of Memphis wearing a onesie that said "Big Brother." The caption on the photo read: "Sup everybody... guess who is gonna be a BIG brother!"
A month later, in August, the couple shared a really creative video to Aldean's Instagram page, in which they revealed the new baby's sex.
The video begins with Kerr asking what Aldean's older daughters, Kendyl and Keeley, thought the baby would be, Country Living reported. (Spoiler: they both guessed correctly that it would be a girl.) Kerr went onto reveal that she and Aldean already knew the baby's sex, but that they wanted to surprise the rest of the family with the news. Then, Aldean took his kids out to their backyard with baseball bats, and pitched baseballs filled with pink powder to represent a "girl." When one of the girls hit the ball, it opened up and the sex was revealed.
Jason has bonded with other famous dads over how having kids has shaped him as a father, musician, and person. In an interview with The Advocate, fellow dad and country star Thomas Rhett shared that he texted Aldean to get some advice about dad guilt. In response, Aldean opened up, according to Rhett, about how leaving to go on tour has more of a purpose and meaning for him now that he's committed to providing a great life for his family. Aldean shared:
Before you had kids, it was all about going out there and trying to win at awards shows and sell as many tickets as possible and trying to have multi-week No. 1s. After you have kids, you still want those things. But at the forefront of your brain is, 'How can I give my child the best life humanly possible?'
It's a super sweet sentiment, and it's obvious that Aldean is as committed to his family as he is his work. For the Aldeans, Navy will be another exciting addition to their already happy family. Fortunately, fans will only have to wait a few more months until the newest addition arrives.