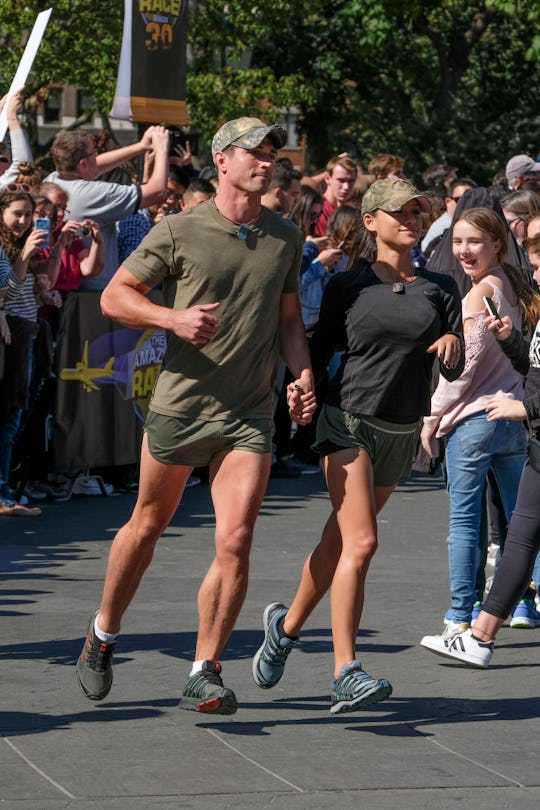 Timothy Kuratek/CBS
Here's What Jessica & Cody Have Been Up To Since 'The Amazing Race'
If you're watching Season 30 of The Amazing Race, you may recognize some faces. One of the duos is Big Brother 19 showmance Jessica Graf and Cody Nickson, and in the premiere episode they did pretty well for themselves. The couple not only avoided elimination, they also came in second place. Some people are now speculating the couple may have even won this season, leaving many to wonder what are Jessica and Cody doing now after The Amazing Race?
Although Jessica and Cody obviously can't reveal how they did on the reality series, they are back on social media now that the season is over, and they're giving fans more of a look into their lives. The couple has started a YouTube channel called, Living Jody, which already has almost 18,000 subscribers. In the videos it looks like Jessica and Cody are now living together in Los Angeles. They also have a dog together named Bear, who also has his own Instagram account. I know, it's pretty adorable.
The pair have also been hanging out with other people from The Amazing Race, including Alexander Rossi and Conor Daly from #TeamIndyCar, as well as Joey Chestnut, one of the competitive eaters. Additionally, Jess and Cody have been spotted catching up with fans around Los Angeles.
Unfortunately, things haven't been all good for "Jody," as they're called by their fans. Someone made an Instagram account impersonating Cody's daughter, Paisley, and Jessica and Cody were pleading with their fans to report the account and have it taken it down last month. Jessica even messaged the account directly on Instagram asking the person running it to take it down. The person then claimed they were "Instagram" and then told Jessica if she and Cody followed the account they'd change it. Thankfully, it appears the account has now been removed and hopefully that'll never happen again.
But, in general, the couple seem to be doing well. They spent the holidays together and even shared a video to their YouTube channel, showing fans their Christmas stockings and meal. In terms of work, it doesn't look like either Cody and Jessica are working right now (at least not from what I could find), but Jessica has been doing promotions on her Instagram for companies like Teami Blends, a detox cleanse, and Sugar Bear Hair, a vitamin company.
Jessica and Cody have also been doing a lot of promotional events for the new season of The Amazing Race, but that's just par for the course when you're on a reality show — something they're both quite familiar with. Speaking of reality shows, when it comes to their former housemates from Big Brother 19, it seems the only ones they keep in touch with are Mark and Elena, another showmance from their season. Jessica took to Twitter to ask the couple to join her and Cody for New Year's, but it doesn't look like the couples were able to get together, unfortunately.
Although Jessica and Cody obviously didn't get along with most of the people on their season of Big Brother, Jessica has created bonds with other Big Brother alum. She tweeted her support for BB18's Natalie Negrotti and Victor Arroyo who are currently competing on MTV's The Challenge, and she and Cody hung out with Paul Calafiore from BB18, and other Amazing Race contestants back in November.
Whether or not Jessica and Cody do win this season of The Amazing Race, it's clear that they're still going strong after having to work together on a new reality TV competition. You can see if they make it onto the next challenge by watching The Amazing Race this Wednesday, Jan. 10 at 8 p.m. EST.
Check out Romper's new video series, Romper's Doula Diaries:
Watch full episodes of Romper's Doula Diaries on Facebook Watch.