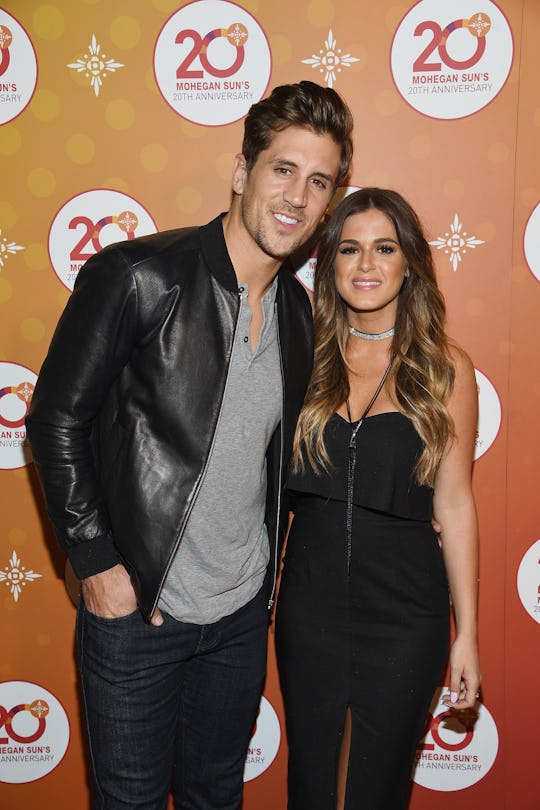 Dimitrios Kambouris/Getty Images Entertainment/Getty Images
What Are JoJo & Jordan Up To Now? The 'Bachelorette' Stars Are Moving Forward
It's easy to get swept up in the romance while watching a couple fall in love during a season of The Bachelorette or The Bachelor. By the time the finale rolls around, all the exotic locales and tearful confessions have set the stage for the final proposal and (hopefully) a happy ending, but the journey isn't over just because the cameras stop rolling. Some of the couples do go on to have their happily ever after, but just as many end up calling it quits. The most recent Bachelorette, JoJo Fletcher, was convinced she had found the fairytale romance she was looking for with former athlete Jordan Rodgers. But what are JoJo and Jordan up to now?
It looks like things have been going well for the couple and they've been getting closer since the show ended. JoJo and Jordan's respective social media accounts have no shortage of happy couple selfies, sweet messages to each other, and good-natured teasing. After all the difficulties of filming – not to mention the public criticism of Jordan, as well as JoJo's decision to choose him – they were ready to be a normal couple for a little while. Of course, they're still considering televising the wedding.
Though they're planning to get married sometime in 2017, they haven't actually set a date yet – but after meeting and getting engaged in just seven or eight weeks, it's probably wise not to rush into anything. Even though they haven't finalized wedding plans yet, JoJo and Jordan did decide to move in together in Dallas, her hometown. It was a relocation for Jordan, who previously lived in California, but one he was eager to undertake. "As great as it's been, it's also been very difficult so we just want to take that time to decompress and be ourselves," JoJo told People. "But I know he's ready. He's always trying to elope like every other day!"
Jordan has also taken advantage of some new career opportunities. In addition to owning a nutrition coaching company called MetPro, he's expanding his broadcasting career. He's done some radio work for ESPN in the past, but now he's snagged a job as a college football analyst for the ESPN network SEC. JoJo congratulated him with an Instagram post that piled on the praise. "So proud of this boy right here," she wrote. "Not only is he the most loving, kindhearted, and selfless man... But also unbelievably hardworking and driven." Everyone knows you only use that many adjectives when you're in love.
JoJo and Jordan will be making their first reality show appearance as a couple on Freeform's Ben and Lauren: Happily Ever After?, where they'll be going out on a double date with Ben and Lauren. Despite the serious awkwardness of taking your fiancé on a date with your ex, things reportedly went well for everyone involved. Now that both JoJo and Ben have found partners who make them happy, it doesn't look like anyone is holding a grudge.
It's hard to say if JoJo and Jordan will make it in the long run, but they seem to be off to a good start.