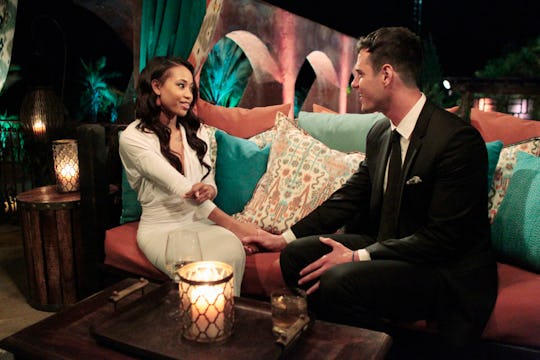 ABC/Rick Rowell
What Are Jubilee's Tattoos? The 'Bachelor' Contestant Is Sporting Some Serious Ink
Tonight's episode of ABC's reality television hit The Bachelor suggests that Jubilee Sharpe, one of the more controversial supplicants to Ben Higgins' heart, might not be going anywhere any time soon — so now, more than ever, we need to know: What are Jubilee's tattoos? The ink is visible from her oft-plunging necklines, but it's hard to make out exactly what's going on.
One thing we can say for certain is that she has eight tattoos total — or, at least, that's what it says at her Twitter bio. The heavy inkage is just one of many unique facts about Sharpe's background. The 25-year-old model was previously in the Army for four years, according to Heavy, and she characterizes herself as someone with a "bad past." Born in Haiti, Sharpe spent several years in an orphanage, a fact that was featured in tonight's episode as she tearfully explained to Higgins that she's the only surviving member of her family.
But enough about Sharpe, what about her tattoos?! Lucky for us, Sharpe told everyone on Twitter exactly what her most prominent tattoo, the one on her collarbone, says: 'The past is practice.' Sounds serious. Another tattoo, this one on her neck, is infinitely more enigmatic. According to Tweeter Mark Waltz, it says 'the puff pastry' — which could definitely, definitely be a joke... but how amazing would it be if it weren't? (Answer: Very.)
The tattoos that are mostly hidden by clothing are, of course, the most difficult to make out, but this photo at Sharpe's Instagram account at least show us where they're located:
Whatever they say, some Bachelor fans on Twitter aren't completely down with Jubilee's tats.
But her conspicuous ink is all part of her daring personality, which seems to really appeal to Ben, who said on tonight's episode, "What I like about Jubilee... is she says things that make even me blush sometimes."
Perhaps if we knew more details about her ink, we'd all be blushing, too.
Images: ABC/Rick Rowell