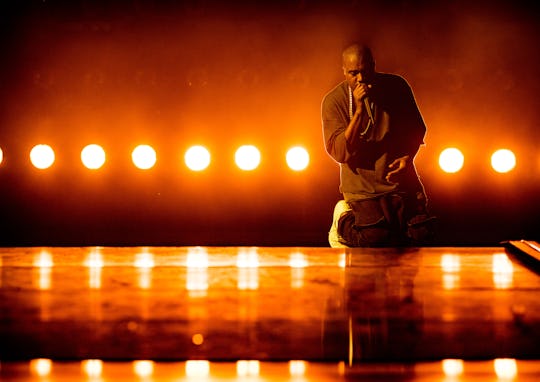 Christopher Polk/Getty Images Entertainment
What Are Kanye West & Wiz Khalifa Fighting About On Twitter? It's Quite The Feud
Two rap icons are having it out online. What are Kanye West and Wiz Khalifa fighting about on Twitter? It all has to do with the title of West's new album. According to Yahoo! Music, West renamed his upcoming album, choosing Waves instead of Swish. Khalifa pointed out on Twitter that Wave refers to a musical movement started by Max B and asked West to give up the name since the reference doesn't fit his music. West responded with a few dismissive tweets on Tuesday, but he followed up on Wednesday with 17 numbered tweets directed at Khalifa.
The problems started shortly after West tweeted to let fans know the name of his new album. Khalifa responded with, "Please don't take the wave." He followed up by saying, "Max B is the wavy one. He created the wave. There is no wave without him." He retweeted critical words from Chase N. Cashe and expressed his agreement: "Im a wavy baby for sure and I'm not having it." Khalifa then elaborated on his criticism: "He's the reason I sing on all my songs. That's the wave. If theres nothing wit that sound ITS NOT WAVY." He then tweeted three links to YouTube videos showcasing wave music. Shortly after midnight on Thursday, West tweeted, "All respect to Andre Harrel and Max B #Waves." Khalifa replied with "Yea aight."
The conversation seemed to settle down overnight, but it escalated again when West took to Twitter on Wednesday afternoon. In a string of tweets that appear to be directed at Khalifa, West made his feelings clear. He started by accusing Khalifa of stealing from Kid Cudi, then calling some of his music "corny." West tweeted, "You have distracted from my creative process." In a brief detour, he tweeted that he looked at Khalifa's Twitter account and saw the rapper "wearing cool pants," then wrote, "I screen grabbed those pants and sent it to my style team #Wizwearscoolpants."
West then got back to his list of tweets directed at Khalifa, insulting his album, insinuating that Khalifa's child's mom trapped him, and saying that Khalifa should be grateful to, and respectful of, him. He finished by tweeting, "17th I think you dress cool I wish I was skinny and tall." Then he added, "maybe I couldn't be skinny and tall but I'll settle for being the greatest artist of all time as a consolation." After one more tweet at Khalifa, West expressed his gratitude "for the extra promotion."
Once his 17 tweets and additional string of comments ended, West changed his tone. "What's sad is I love Wiz and I love all all my brothers and all people," he tweeted, adding, "I love the world bottom line and all I want is peace and positive energy." He then wrote that his new album is a gospel album.
Khalifa was mostly quiet in response to the string of comments from West. His most recent tweet said, "I been smashed the idea of that album even existing. I got joints to roll @kanyewest." The feud between West and Khalifa seemed to be serious, but it looked like things cooled down later Wednesday. West then deleted some of the tweets directed at Khalifa on Wednesday afternoon.