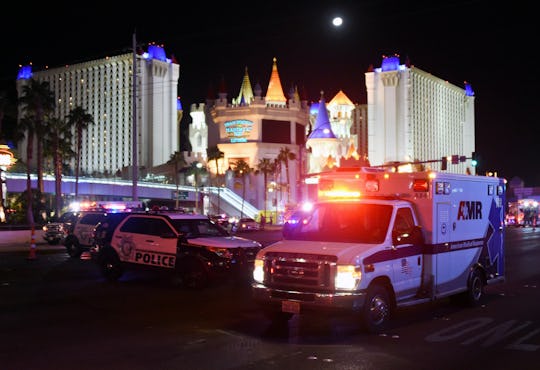 Ethan Miller/Getty Images News/Getty Images
What Are Las Vegas' Gun Laws?
Late Sunday night, at least 50 people were reportedly killed and another 500 were injured in Las Vegas, Nevada, in what is being called the deadliest mass shooting in modern American history. The suspect was found dead on the 32nd floor of the Mandalay Bay Resort next to the concert green, as a result of what police reportedly believe was a self-inflicted gunshot. Officials say that a number of rifles were found in the shooter's hotel room. So, given the widespread devastation caused by a single gunman, what are Las Vegas' gun laws?
Update: As of 6 p.m. ET on Monday, Oct. 2, CNN reports that 59 people have died and over 500 people were injured. Authorities say the suspect had 18 additional firearms, explosives and several thousand rounds of ammo at his home in Mesquite, NV.
They are shockingly lax in the state of Nevada, and may have contributed to the large number of casualties: Watchdog group the Law Center to Prevent Gun Violence gave Nevada a C- on its annual Gun Law State Scorecard in 2016. In fact, there is no gun registration in the entire state of Nevada, according to website Nevada Carry.
In 2015, Nevada Gov. Brian Sandoval signed Senate Bill 175 into law, which gave state law the authority to preempt local and county gun laws. Most notable of these laws to be preempted was Clark County's "blue card" laws, which required that all handguns had to be registered and private sales of firearms had to be completed at a police station. As the county seat of Clark County, Las Vegas was subject to these gun permit laws up until 2015.
In a press conference Monday morning, as previously stated, Las Vegas Sheriff Joseph Lombardo said that "numerous firearms" were found in the suspect's hotel room, describing them only as rifles, without giving any more detail regarding the specific type of rifle that was used in Sunday night's shooting. As of 2017, only carry permits are required for handguns, but no permits or licenses are required for any rifle or shotgun. In addition, Nevada is an open carry state, meaning that any gun owner can openly carry a firearm — be it a handgun, rifle, or other long gun in public, with a few exceptions.
However, gun owners may not openly carry their firearms on public school properties, including any college or university that's part of the Nevada System of Higher Education. Additionally, guns may not be openly carried on the property of any childcare facility, whether it's a public or in-home private facility, according to Nevada state law. Airports are obviously off limits, like any airport in the country. Firearms are also not permitted to be carried openly in legislative buildings. Firearms are also prohibited by federal law in places like military bases, V.A. hospitals, post offices, and other federal facilities.
So what about in Las Vegas, where the suspect fired on a crowd of people from his hotel room at the Mandalay Bay Resort? Well, guns are allowed in hotels and casinos in Las Vegas, according to De Castroverde Law Group. That said, it is within the rights of private properties — such as hotels and casinos — to ask openly carrying gun owners to either disarm their firearms or leave the premises. Should a gun owner choose to remain on the property, they could be charged with trespassing, but not violation of any specific gun-related law. As far as Mandalay Bay properties, "weapons of any type (guns, knives, nightsticks, mace, pepper spray, stun guns, etc.) are strictly prohibited on Mandalay Bay property," according to a policy stated on its website.
In addition to its incredibly lax open carry laws, there is no waiting period to buy a gun in Nevada. And while more than 500,000 voters were overwhelmingly in favor of background checks, the law has yet to be implemented, as both the Nevada Attorney General and the FBI have, so far, determined the gun background check initiative is currently unenforceable. As such, while Nevada voted to implement gun background checks last year, the law hasn't officially taken effect.
In the wake of Sunday night's deadly massacre, gun safety advocates can only remain hopeful that Nevada will take a much harder look at its gun laws.