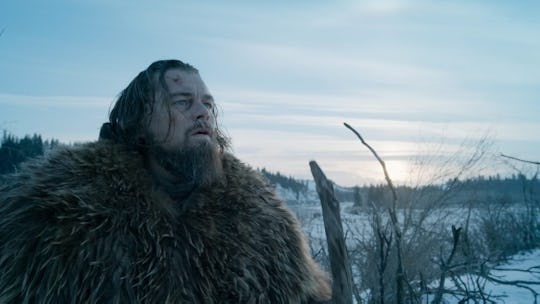 Day Donaldson/Flickr
What Are Leonardo DiCaprio's Chances Of Winning An Oscar? This Could Be His Year
Leonardo DiCaprio has had more than a respectable career — he's had a pretty stellar career. A quick visit to his IMDb page confirms that he's won 61 awards, three of which have been Golden Globes — none of which, however, have been Academy Awards. He has been snubbed time and time again, but with the ceremony coming up in a little over a month, it's time to start making bets: what are Leo's chances of winning an Oscar this time? The nominations Thursday will reveal just what he could win for.
Before going into why The Revenant may be the film to finally take the cake, know that the last time DiCaprio was nominated an Oscar was for The Wolf of Wall Street. Great film, great performance. Who knew that DiCaprio had those dance moves? Not me. Even though it looked like DiCaprio had a real chance then, what film was he up against? None other than 12 Years A Slave. It is so hard to win against 12 Years A Slave. The lesson here is no matter how good your film is, oftentimes it comes down to circumstance. So, it's worth keeping in mind that however brutal, gritty, or cringe-inducing DiCaprio's performance in The Revenant may be, he's up against Eddie Redmayne in a dress in The Danish Girl. Sure, DiCaprio fights a bear, but Redmayne looks fantastic in that coral lipstick.
That said, The Revenant is ticking a lot of Oscar-winning boxes. Set in the 1820s, it's a period film. Check. Iñárritu has been raking in the awards in the past two years. (Remember Birdman?) Check. It tackles some dark issues in American History. Check. It's got an amazing supporting cast, but DiCaprio still steals the show. (Think about how hard it is to upstage Tom Hardy. TOM HARDY.) Check.
To sum it up, it won't be easy, but Leo DiCaprio has the best chance he's ever had to win an Oscar this year. I'm not the betting kind, but I'd bet on Leo. The odds are with him and even the Academy knows it's about time.
Images: Day Donaldson/Flickr