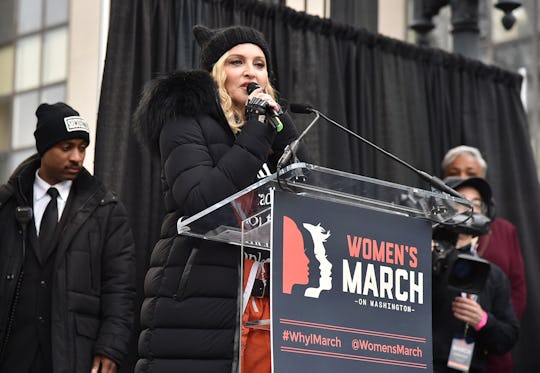 Theo Wargo/Getty Images Entertainment/Getty Images
Madonna's Twins' Names Are Beautiful
OK, is it just me, or are twins suddenly everywhere these days? Seriously, from Beyoncé to George and Amal Clooney, it seems like I can't turn on a television or open a website browser without hearing the news that more celebrity twins are on their way. And now, news is out that original pop icon, Madonna herself has completed the process of adopting two twin girls from Malawi. While the media has speculated about Madonna adopting children from Malawi for a while now, the singer confirmed those rumors Thursday with an Instagram post requesting privacy and stating the family's joy. However, with such happy news comes even more questions. For example, what are Madonna's twins names? According to The Daily Mail, the girls have been named Stella and Estere.
Even though fans definitely want to respect Madonna's wishes for privacy while she and her family settle in at home, some fans can't help but speculate how happy the singer must be right now, and important it is that she's doing her part to help children those in need. Because, as it stands, this isn't the first time Madonna has adopted children from Malawi, with David Banda, and Mercy James, both 11, also coming from the southeastern African country.
Stella and Estere were adopted from the Home of Hope orphanage, where, according to Madonna, there are still more than 650 kids looking for a home. It's heartwarming to see the celebrity taking such action towards the causes she cares about, and setting a great, empowering example for her daughters.
At the Women's March on Washington last month, Madonna gave a highly impassioned speech in D.C., according to Rolling Stone.
It seems as though we all slipped into a false sense of comfort, that justice would prevail and that good would prevail in the end. Well, good did not win this election. But good will win in the end. So what today means is that we are far from the end. Today marks the beginning — the beginning of our story. The revolution starts here.
Of course, it wouldn't be a Madonna moment without at least a little bit of controversy. And with quite a few f-bombs being dropped, and a possible joke to "bomb the White House," she definitely made headlines.
But the fact remains, Madonna is a lasting symbol of girl power, and now, with two more girls added to her family, fans can rest assured that the world's feminist population is definitely growing.
Welcome home, Estere and Stella! I'm sure you're going to be swarmed with love from everyone.