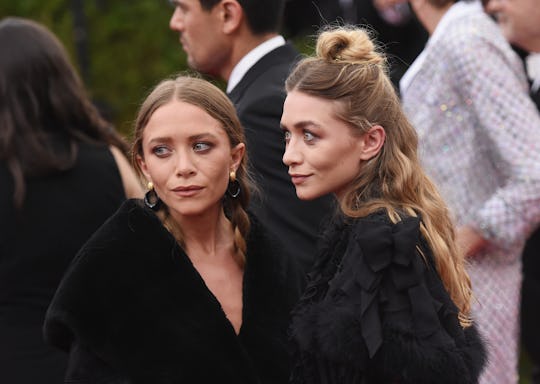 Mike Coppola/Getty Images Entertainment/Getty Images
What Are Mary-Kate & Ashley Olsen Doing Now? Running Their Own Fashion Empire, Of Course
Fuller House has brought back some serious '90s nostalgia. It has brought Jodie Sweetin back into our households, gave us more of an excuse to stare at John Stamos' face all day (seriously how does he age so well?) and has given us a moment to pretend like it is 1995 all over again. Who doesn't love that? With Fuller House being renewed for a second season, it looks like we're going to have more of an opportunity to continue to do that. Noticeably missing from the first season has been Mary-Kate and Ashley Olsen, who played Michelle on the show. What are Mary-Kate and Ashley Olsen doing now? Running their own fashion empire, of course.
Unless you have been living under a rock, you should know that the Olsen twins have been successfully working in the fashion work for the past 15 years. In fact, Mary-Kate has not acted since 2011 and Ashley has not acted since 2004 (aside from two uncredited appearances in 2009 and 2010).
The twins first fashion line, Mary-Kate and Ashley: Real Clothes for Real Girls was carried at Wal-Mart from 2000-2005, and if you were anything like me, you definitely owned at least one piece of clothing from the collection. The collection featured clothes, makeup and even shoes designed by the two girls.
In 2006, however, the girls took their first serious foray into fashion with their line, The Row. The Row is ready-to-wear fashion and accessories but at a pretty serious cost. You can find their items at stores like Saks Fifth Avenue and Neiman Marcus. In 2012 the CFDA named Mary-Kate and Ashley the Womenswear Designers of the Year which is a huge accomplishment in the fashion industry.
Mary-Kate and Ashley went on to create two more clothing lines in addition to The Row. In 2010, Mary-Kate and Ashley went on to design an affordable line of clothing in collaboration with J.C. Penney called Olsenboye, which sold items of clothing between $13 and $50.
Elizabeth & James, their luxury fashion line with a little more edge than The Row, debuted in 2007. The clothes are contemporary, laid back and not as expensive as The Row but not sold at J.C. Penney either. With Elizabeth and James, the twins created a best selling fragrance sold exclusively at Sephora which smells seriously incredible.
This past January it was announced that Mary-Kate and Ashley would be designing shoes for The Row proving that their fashion empire is continuing to expand and slated to take over the world. Which is a pretty decent excuse for them to not join Fuller House.