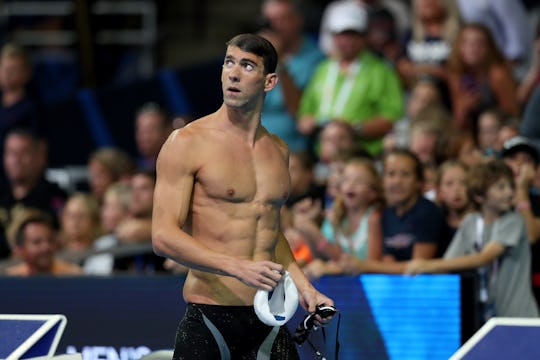 Tom Pennington/Getty Images Sport/Getty Images
What Are Michael Phelps Tattoos? They Represent Important Times In His Life
As the summer Olympic Games approach, it's time to welcome some familiar star athletes back into the public consciousness, one of the most famous of whom is swimming star Michael Phelps. There will be stories told about his childhood, previous Olympics, and past scandals galore in the coming weeks. But here's what I really want to know. What are Michael Phelps tattoos, besides completely distracting? Turns out they have a strong connection to what he loves most.
Michael Phelps has a lot going on. He's the father of new baby boy, Boomer, with his beauty queen fiancée Nicole Johnson. He's also in the midst of training for his fourth Olympic Games with his mentor Bob Bowman, at Arizona State, trying to add more medals to his already legendary count of 22, according to the ASU Alumni Magazine. But let's keep it real, Phelps is also well know for having a pretty muscular body too. Phelps has decorated his torso with two tattoos that often peek out from underneath his swim trunks. After a bit of investigation, I was able to find out exactly what it is fans will be looking at during the Olympic swim competitions in Rio.
The "M"
Phelps has an "M" tattooed on his left hip. Now, the outlined "M" has led many, including the eagle-eyed tattoo spotter in the tweet above, to guess that it represents the University of Michigan. But not so fast. Phelps' home state is Maryland, so chances are the ink is a shout-out to the Old Line State rather than the Wolverines, according to the New York Daily News.
On His Right Hip, He Has The Olympic Rings
An athlete commemorating their trip to the Olympics with a tattoo is a common way to remember a lifelong achievement. But it was Michael Phelps' Olympic rings tattoo on his right hipbone that has gotten the most attention. According to the Daily Mail, only once an athlete successfully completes their first Olympic Games can they legitimately get the tattoo of the rings. His fellow Olympic Swimmer and heartthrob of the pool Ryan Lochte also has a similar tattoo on the inside of his arm, according to the Mail. It's the ultimate status symbol among the sporty set, so look out for more of them during this summer's games.
Maybe Phelps will get another tattoo to honor his new son. Hopefully he'll upload photos if he does so that fans can see the cool new mark of love.