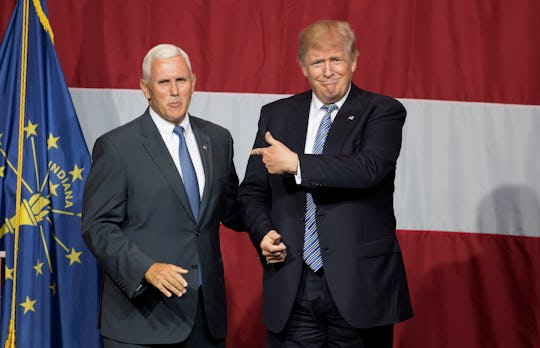 TASOS KATOPODIS/AFP/Getty Images
What Are Mike Pence's Views On Black Lives Matter? He Hasn't Said Much
It's almost official. The campaign team for Republican presidential candidate Donald Trump has centered on Mike Pence, the governor of Indiana, as the businessman's vice presidential pick. The official announcement won't be made until Friday, but The Indianapolis Star reported on Thursday that Pence "is dropping his re-election bid in Indiana to become Donald Trump's running mate." Some may be wondering where Trump's presumptive right hand man stands on the issues that heavily affect the nation right now. For example, what are Mike Pence's view on Black Lives Matter?
UPDATE: Trump confirmed Pence as his vice presidential running mate in a tweet Friday morning and said he would host a news conference on Saturday.
The governor has addressed the events that have brought Black Lives Matter — an activist movement that campaigns against violence toward black people — back into recent headlines and protests nationwide, but he hasn't said much about where he stands on the movement itself.
According to The Indianapolis Star, he called the shootings in Dallas that left five police officers dead and others wounded a "horrific ambush" and a national tragedy in a statement released on July 8. He later went on to say his heart went out to the families of those who lost their lives in dual police shootings in Louisiana and Minnesota — families of two black men, Alton Sterling and Philando Castile, respectively. Both fatal police shootings were recorded on video, sparking protests nationwide.
"In the wake of this tragedy, we must be clear that violence and threats against law enforcement officers will never be tolerated and ensure that our police have the training and resources to defend themselves as they defend our communities," Pence said in a statement on July 8 after the Dallas shootings.
Trump, on the other hand, has directly addressed it and has accused the Black Lives Matter movement of "dividing America."
Trump's possible running mate hasn't spoken on the movement publicly yet, but now that his name is in the spotlight he may need to voice his views. Regardless, Pence's recent words about the election make it clear that he stands by Trump in general. According to ABC News, Pence said that he may not agree with everything that Trump stands for, but he supports him.
"Donald Trump gets it. Donald Trump hears the voice of the American people," Pence said. "I haven't agreed with everyone of my Republican colleagues or Democratic colleagues on every issue. But I'm supporting Donald Trump because we need change in this country."
Pence has been pretty vocal about his conservatism throughout his political career, especially with social issues. He's strongly opposed same-sex marriage. In March 2015, Pence signed a bill that would allow business owners to refuse service to LGBT customers based on the owner's religious beliefs, though he later signed an amendment that would hypothetically bar any sort of LGBT discrimination (the law still has plenty of critics). He's also really against abortion and has pushed forward many plans to defund Planned Parenthood.
There is a strong possibility that the Indiana governor may be second-in-command of the United States, so it'll be pretty important for Americans to get to know Pence and where he stands on specific matters. They may not agree on everything, but if Trump does end up picking Pence as his vice president, this new role will require him to speak on these pressing issues facing the nation right now.