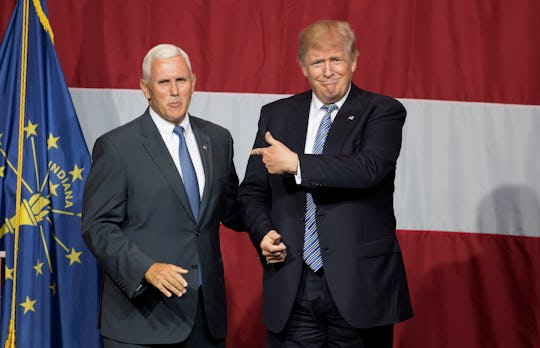 TASOS KATOPODIS/AFP/Getty Images
What Are Mike Pence's Views On Gay Marriage? His History Is One Of Opposition
UPDATE: Trump confirmed Pence as his vice presidential running mate in a tweet Friday morning and said he would host a news conference on Saturday.
According to Roll Call, which was later confirmed by Indy Star, presumptive Republican nominee Donald Trump has chosen Indiana Governor Mike Pence as his running mate. Senior communications advisor Jason Miller said on Twitter, "A decision has not been made by Mr. Trump. He will be making a decision in the future and will be announcing his Vice Presidential pick tomorrow at 11 am as planned." Still, with reports swirling, many are left wondering, "What are Mike Pence's views on gay marriage?"
Unfortunately, Pence considers himself a champion for "traditional marriage," and has fought against marriage equality throughout his time as a public servant. During his State of the State address on Jan. 12, Pence made some contradicting statements surrounding marriage equality and gay marriage. "No one should be harassed or mistreated because of who they are, who they love, or what they believe," Pence said, while promising that he wouldn't deviate from his conservative and religious ideologies in order to extend state civil rights to protect lesbian, gay, bisexual and transgender individuals.
Pence also apposed gay rights during his 12 years in Congress, case after case claiming that gay rights impede on religious freedom. In 2007, for example, Pence vocalized his fear that a bill that would protect gay and lesbian workers from workplace discrimination would be used to discriminate against Christians. In 2009, Pence fought against expanding the definition of hate crime to include someone's sexual orientation. Pence was quoted as saying, "This will have a chilling effect on religious expression, from the pulpits, in our temples, in our mosques and in our churches."
In March of 2015, Pence signed into law a measure that allowed businesses to turn away gay and lesbian customers in the name of "religious freedom." He was an earlier supporter of the controversial Religious Freedom Restoration Act of 1993 (RFRA), which, "ensures that interests in religious freedom are protected" and has been used to allow and support discrimination in multiple forms. The RFRA was held unconstitutional by the United States Supreme court in 1997.
And, to no one's surprise, Pence expressed great disappointment when the United States Supreme court legalized gay marriage in 2015. Pence stated he was, "disappointed that the Supreme Court failed to recognize the historic role of the sates in setting marriage policy." He did, however, promise to uphold the law (the law he is legally required to uphold), so one can guess that's a start. Maybe.