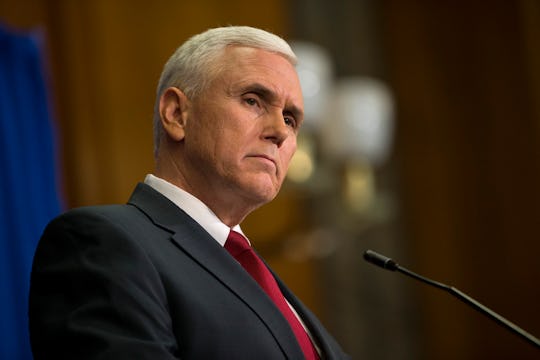 Aaron P. Bernstein/Getty Images News/Getty Images
What Are Mike Pence's Views On Immigration? His Career Shows He's Actively Against It
In the coming days, Donald Trump will be announcing who he has chosen to as vice presidential running mate and his campaign has reportedly settled on Indiana Gov. Mike Pence. It's not official yet, but The Indianapolis Star reported on Thursday that Pence "is dropping his re-election bid in Indiana," which speaks volumes enough. Of course, in the past, the two Republicans haven't exactly seen eye-to-eye on many of the important issues Americans care about. But one issue that the two seem to share mutual views over is immigration. So, what are Mike Pence's views on immigration? Trump's presumptive vice presidential nominee has held a firm stance that's anti-immigration.
This was evident most recently in February last year when the world was in crisis and millions of Syrians were displaced by the country's violent civil war, one that has plagued the country for years. In the midst of all the chaos, Pence tried to stop aid for Syrian refugees resettling in Indiana, but a federal judge overrode that attempt.
That was hardly his first strike against both legal and illegal immigration. Just last year, he refused to accept Syrian refugees after reports suggested one of the Paris bombers may have posed a Syrian refugee to gain access into the country.
Pence hasn't just tried to keep immigrants out of the United States. Back in 2004, he supported a bill (which ultimately didn't pass) that would have potentially deported undocumented people from local hospitals. The Undocumented Alien Emergency Medical Assistance Amendments Bill, HR 3722, would have required hospitals to report information on undocumented patients before hospitals could be reimbursed for treating them, which could have led to those patients being deported.
Two years later, in June 2006, Pence introduced a plan that he called "no amnesty immigration reform."
"The Border Integrity and Immigration Reform Act is a bill that is tough on border security and tough on employers who hire illegal aliens, but recognizes the need for a guest worker program that operates without amnesty and without growing into a huge new government bureaucracy," Pence wrote in 2004 in a summary of the plan.
After learning the history of Pence's political career regarding immigration, news that he once slammed Trump's proposed "Muslim Ban" might come as quite the curve ball for both liberals and conservative. He tweeted last December that the ban was "offensive" and "unconstitutional." Trump's proposal would attempt to restrict Muslims from coming into the United States.
If Trump does end up officially choosing Pence to be his running mate, it'll be interesting for voters to see how the governor's position on particular immigration issues might change, or perhaps whether it will remain the same.