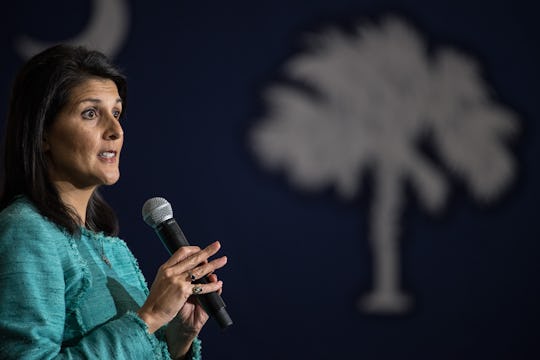 Sean Rayford/Getty Images News/Getty Images
What Are Nikki Haley's Foreign Policy Stances? She's Reportedly Up For Secretary Of State
Rumor has it South Carolina Gov. Nikki Haley is being considered for a pretty major role in President-elect Donald Trump's upcoming administration: According to MSNBC's Joe Scarborough, sources close to the president-elect say Haley is one of the top two politicians being considered for secretary of state. If Haley does join Trump's cabinet, what could we expect from the South Carolina governor? What are Haley's foreign policy stances?
Haley mainly has experience representing South Carolina. She was first elected to the state house to represent Lexington County in 2004, then launched her campaign for governor in 2009, eventually stepping into the role in 2011. On Wednesday, she was elected as the vice chair of the Republican Governor's Association, around the same time that she began sparking secretary of state predictions. Another name being floated for the role is former New York mayor Rudy Giuliani.
Haley has stated a few opinions on foreign policy — a few of them related to Trump's suggestions, as well. First, in September 2015, Haley and 14 other Republican governors sent a letter to President Obama opposing the Iran nuclear agreement.
Second, Haley seems to believe in strict immigration laws, having signed in a law in 2011 requiring law enforcement in South Carolina to call federal authorities if they believed someone detained or arrested was in the country illegally. She also created an immigration law enforcement unit, which cost the state $1.3 billion. The American Civil Liberties Union sued South Carolina over the law, saying it would lead to the detention of Hispanic people and arguing that it was unconstitutional.
Third, Haley criticized Trump's strict take on immigration in the past, objecting to his position on birthright citizenship. (Interestingly, she also said Americans "want to know they're sending someone up to the White House that's going to be calm and cool-tempered and not get mad at someone just because they criticize him. We would really have a world war if that happens." If she ends up as Trump's secretary of state, it'd be quite the shift, although she did say she voted for him in the end.)
Still, many think Haley doesn't quite have the foreign experience it takes to be secretary of state. "I thought it was impossible to find someone with less foreign policy experience than Rudy Giuliani, but bingo, here is somebody with no foreign policy experience," Foreign Policy CEO and editor David Rothkopf told MSNBC when asked about Haley's suitability for the role. "Foreign policy is not a part of her job, it hasn't been a part of her life. ... We're sort of building a government right now of people with no experience. ... At a certain point, you need someone in the room who knows what's going on, who knows other people around the world and so on."
Others think Haley would be the perfect fit for the role. South Carolina Lt. Gov. Henry McMaster told The Post and Courier, "It would be like how Mr. Trump is bringing fresh eyes to running our government."
Without a formal announcement of the appointment, however, the idea of Haley becoming secretary of state is still just a rumor. There are plenty of other names being tossed around by different media outlets, and an announcement from Trump's transition team has yet to be made. If Haley were named secretary of state, however, her foreign policy views would likely be new information for most Americans.