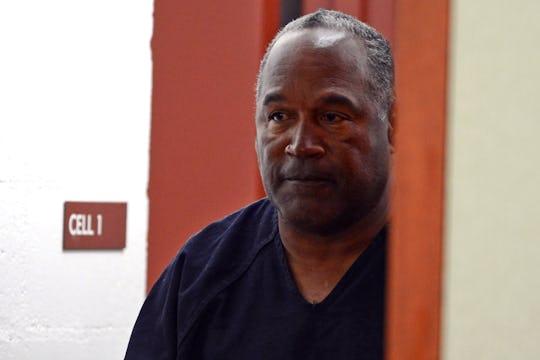 Ethan Miller/Getty Images News/Getty Images
What Are OJ Simpson's Parole Terms?
Not long after O.J. Simpson became the subject of countless documentaries and dramas marking the 20th anniversary of his acquittal for an alleged double murder, news broke that the onetime NFL player has been granted parole after serving a prison sentence for an unrelated crime. Simpson will soon be a free man following nine years behind bars for separate convictions that include kidnapping and armed robbery. Anyone who binged on The People v. O.J. Simpson last year surely is anxious to know what O.J. Simpson's parole terms are and when exactly he's getting out.
If all goes according to plan, Oct. 1 will be the day that Simpson transitions from his life at the Lovelock Correctional Center in Nevada to a future of freedom, CNN reported. The four-member Nevada Board of Parole Commissioners unanimously voted that the former running back would serve the minimum nine years of his 33-year sentence. He's been serving the time as the result of a 2008 conviction for his part in an armed robbery attempt to steal sports memorabilia from two dealers in Las Vegas. The same board granted him parole for some of the lesser charges associated with the crime in 2013.
Although there were moments of levity throughout the hearing — such as when one commissioner confused the 70-year-old's age and told him he looked great for 90 — he accepted this victory with a serious warning.
"We do not look kindly on parole violations," Board Chairwoman Connie Bisbee reportedly warned him, CBS News reported.
And, despite his fame as a sports legend and his storied acquittal for the 1994 murders of his ex-wife, Nicole Brown Simpson, and her friend Ron Goldman, Simpson will have to adhere to the conditions of his parole just like any other former inmate would. In fact, Simpson will likely have to work harder than most to follow the terms of his parole to a T, because of the intense media attention he garners with his every move.
According to a sample parole agreement on the Nevada Board of Parole Commissioners website, parole in the state requires former inmates to report to their supervising officers and to "submit a written Monthly Report to your Supervising Officer on the first of each month on forms supplied by the Division of Parole and Probation." They're mandated to steer clear of alcohol and drugs. They must refrain from possessing any weapons and from associating with others with criminal records. They must also "seek and maintain legal employment" and submit to surprise searches of their persons, vehicles, and homes.
The parolees of Nevada must also gain the permission of their supervising officers before moving, and the same is true if they wish to travel outside of the state. Although he has spent the past nine years incarcerated in Nevada, Simpson has reportedly asked the board for permission to live in Florida with family members instead upon his release.
At the hearing, Simpson explained to the board that he wanted to spend time with his four adult children and his friends if he were to gain his freedom, The Washington Post reported:
I've come here and spent nine years making no excuses about anything. I am sorry things turned out the way they did. … I tell inmates all the time, "Don't complain about your grind. Do your time." … I believe in the jury system. I will honor the decision. ... I'm at a point in my life where all I want to do is spend as much time as I can with my children and my friends. I've done my time and I've done it was well and respectfully as I can. … I've honored their verdict and not complained for nine years.
Also as part of his plea for parole, Simpson told the board that he had taken computer training in prison. His lawyer later read a statement from Simpson that stated he may explore the possibility of starting a webcast or blog. This admission "drew titters," the Post's Cindy Boren wrote.
Because one thing's for sure: People are absolutely fascinated by O.J. Simpson. Even though he'll be on parole during his initial time out of prison, the public will be hungry to hear what he has to say and to know what he's up to in his new life.