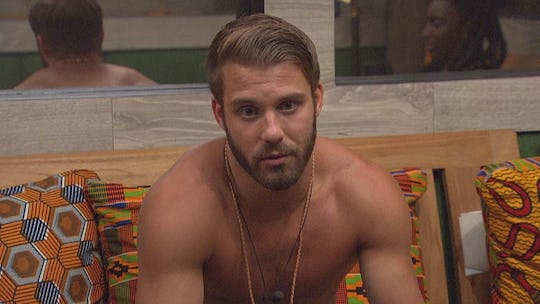 Monty Brinton/CBS
What Are Paulie's Tattoos On 'Big Brother'? They're A Tribute To His Brother
If you're like me, you've probably been checking out Paulie Calafiore from the moment he stepped into the Big Brother 18 house. Just like his brother Cody, who played in Season 16, Paulie is undeniably attractive. Whether or not you're over Paulie by now and totally fed up with his cockiness as I am, you have to admit he has a nice bod and you may have noticed that he also has some interesting tattoos. So what do Big Brother houseguest Paulie's tattoos mean? They're a constant reminder of his family.
From what we can tell so far Paulie has one tattoo and it's pretty small, making it hard for us viewers to decipher. Still we've been able to make out that it's three lines of Italian in cursive and the tattoo is placed on the right side of his body, just below his heart. It is clearly a super cute tribute to Paulie's close relationship with his younger brother, Cody, and also a tribute to the Calafiore family name in general and his Italian heritage.
So what does it say? Thankfully, Cody made a point to share the message on Twitter for fans to awe over.
It is touching that Paulie would place this tattoo so close to heart. It's a clear indication of what's near and dear to him and may also show a bit about why Paulie plays the game the way he does. Similar to his brother who made an unbreakable friendship with Derrick, who ended up winning Season 16, Paulie has aligned himself closely with Paul.
The two of them now refer to themselves as "PP," and have made plans to be the Final Two in the house just like Cody and Derrick were. It's clear Paulie has gathered some notes about the game from his brother and he seems to be putting them to good use as Paulie has successfully kept control of the house for the past few weeks.
Even though Paulie has been separated from his brother for over a month now, it's clear that Paulie still keeps Cody close to his heart.