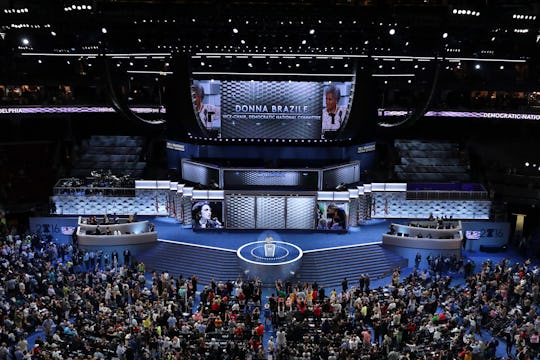 Chip Somodevilla/Getty Images News/Getty Images
What Are People Chanting At The DNC? It's Disrupting Some Important Speakers
The Democratic National Convention speakers may be allowed control of the microphone, but DNC audience members are doing their best to ensure that their voices are heard. While angry attendees broke out with jeers sporadically throughout the night, things got especially heated during former CIA director Leon Panetta's speech. So what are people chanting at the DNC? Calls for "no more war" disrupted the already tense atmosphere on Wednesday night.
As Panetta walked to the microphone, members of the audience shouted "no more war" and held up signs with messages including "end the drone wars" and "a hawk is not a dove." As others in the arena cheered, likely in an attempt to drown out the chanting, Panetta began his speech; he waited about a full thirty seconds after stepping up to the podium before delivering his first full sentence.
Let me point out something that just happened today. Donald Trump, today, once again took Russia's side. He asked the Russians to interfere in American politics. Think about that for a moment. Donald Trump, who wants to be President of the United States, is asking one of our adversaries to engage in hacking or intelligence efforts against the United States of America to effect an election.
Though a chorus of boos followed his description of Trump's actions, chants of "no more war" continued. Panetta pressed on, delivering strong criticism of the Republican presidential candidate.
Earlier today, Panetta told CNN that he felt Trump's invitation of Russian intervention in American politics served as a strong indication that the businessman is unqualified to be the Commander in Chief. During a Wednesday rally, Trump asked Russian hackers who allegedly leaked internal DNC emails to consider tracking down emails reportedly deleted by Democratic presidential nominee Hillary Clinton:
Russia, if you're listening, I hope you're able to find the 30,000 emails that are missing. I think you will probably be rewarded mightily by our press.
Though Panetta's speech served as a strong indictment of Trump's words, he couldn't avoid stopping to acknowledge the input from the audience.