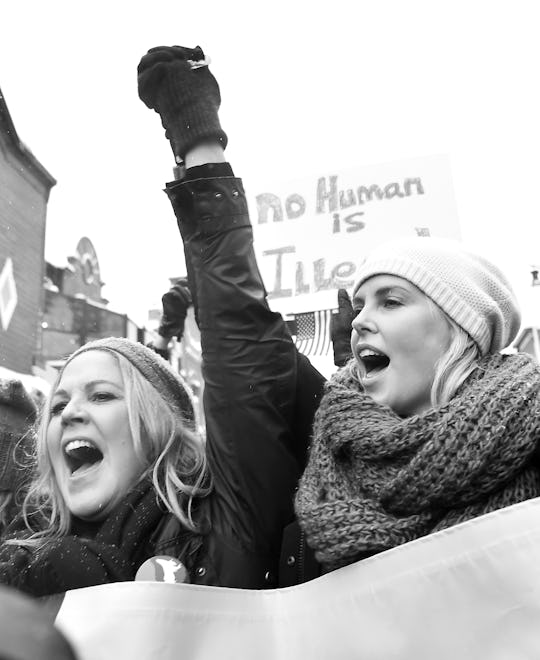 Michael Loccisano/Getty Images Entertainment/Getty Images
What People Are Doing For The Women's Strike
The post-inauguration Women's March on Washington was a huge success, with more than 1 million Americans across the country taking part in demonstrations, according to CNN — not to mention the countless others who participated in related marches throughout the world. Now, organizers are mobilizing that incredible momentum and rolling it forward into another important event, the upcoming "A Day Without Women" general strike. What are people doing for the Women's Strike? The March 8 strike will be held in conjunction with International Women's Day, and, according to the Women's March website, will unite women and their allies in fighting for "equity, justice and the human rights of women and all gender-oppressed people," in a "one-day demonstration of economic solidarity."
Specifically, the strike has called for women to refrain from working — both paid and unpaid labor — for the day, echoing general strikes from years past, like the Women's Strike for Equality March in New York City in 1960, according to TIME, or the Women's Day Off strike in Iceland in 1975, according to The Guardian. In both cases, the strikes were designed to highlight gender inequality, particularly regarding unpaid domestic or caregiving labor, and they sent the powerful message that women's work matters. Now, the A Day Without Women strike aims to share a similar message: that women add huge social and economic value to society, while simultaneously being underpaid and underrepresented, and continuing to be subjected to "greater inequities ... discrimination, sexual harassment, and job insecurity."
One of the major criticisms of the A Day Without Women Strike, though, is that it just isn't realistic or accessible to expect participants to refuse a day of work, especially those who are already in precarious working arrangements, are financially vulnerable, or who have children or loved ones depending on them for essential care. Particularly in the United States, where labor law doesn't always recognize general strikes as legal, and where the "at-will" employment legislation existing in most states means that employers can terminate workers without cause, according to the National Conference of State Legislatures, walking off the job for a day could have crippling personal consequences.
Similarly, since the A Day Without Women strike is meant to be inclusive of all women, the expectation that unpaid work be eschewed to make a point isn't necessarily fair. After all, while previous women's strikes have highlighted the immense value in women unloading domestic and unpaid caregiver work onto their male partners — Iceland's women strike was nicknamed "the Long Friday" by men who were expected to pick up the duties abandoned by women, for example, and helped the country eventually develop one of the world's most progressive parental policies, according to Vogue — single mothers, same-sex couples, and anyone else without a male partner would obviously not have that option. Then again, that conflicting reality is also what really underlies the entire strike altogether: what does it say about our society when the women who are expected to assume a disproportionately high share of unpaid labor don't even have the option to demonstrate against it?
The solution to those concerns isn't necessarily straightforward, but Women's March organizers have given some alternatives. If you can't take the day off (or even if you can), there are other ways to demonstrate, like avoiding shopping for the day (with the exception of supporting small businesses owned by women and minorities), and wearing red in solidarity.
If you are planning on leaving work on March 8 though, The International Women's Strike, which is supporting the strike effort in more than 30 countries worldwide, has some specific suggestions about how to best participate. Organizers recommend that wherever possible, women join local demonstrations and marches, and consider organizing strikes in their individual workplaces (especially if they can get their unions onboard). They also suggest boycotting "companies using sexism in their advertisements or approach to workers," or any "chosen local misogynists," as well as opting out of gender roles as much as possible. In addition to the broad goals stated by the Women's March on Washington, The International Women's Strike also calls for demonstrations against specific issues like gender violence, reproductive rights injustices and labor law inequity, and in support of environmental justice, social provisioning, and intersectional feminism.
For those in New York City who want to get involved on March 8, a rally has been planned from 4:00-8:00 p.m. at Washington Square Park. Similar events have been planned by local groups in cities throughout the country, including San Francisco, Ann Arbor, San Jose, Baltimore, Philadelphia, Columbus, Minneapolis, St. Louis, Boston, Chicago and Washington, D.C. (a full list of events can be found here). Planning to walk out at work but not sure how to approach your employer? The Women's March on Washington has a downloadable template letter available to help start the conversation.
The concept of a mass women's strike might seem radical to some (and unfortunately, many women on social media already appear to be happily denouncing it), but the potential for social change is profound. And even if striking isn't an accessible option for you on March 8, any show of support can help this important cause.