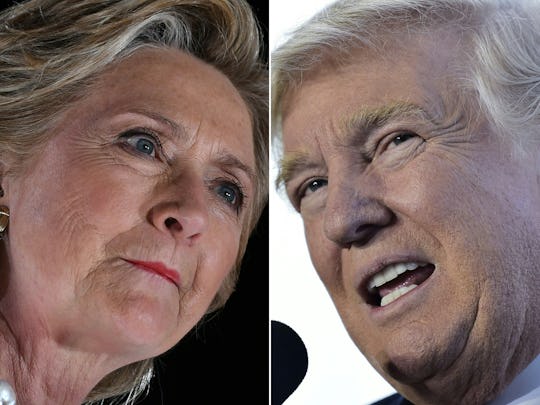 JEWEL SAMAD/AFP/Getty Images
What Are Projected Election Results? Most Predict Clinton Is In The Lead
Waiting for the results of the 2016 presidential election to be announced can give us all a bit of anxiety and this anticipation has caused many to worry about the projected election results, even prior to Election Day. On the eve of one the most historic and tense elections in modern American history, several news outlets have been updating polling results and compiling electoral map projections to keep voters in the know and help prepare them for the official results to be announced. Each projection is based on a vast amount of changing information, but they do provide a good idea of what's going to unfold on as polls close on Tuesday night.
One of the main factors these projections use to predict the outcome is the amount of the 270 electoral votes each presidential candidate needs to win the White House, and how each state is leaning, based on the popular vote. This link will bring you to 12 different maps that provide election forecasts based on electoral votes.
This type of projection is typically a good indicator of which candidate will win a certain state, as most predictably vote red or blue, and only a handful are swing states. Politico reports that in 2016 there are 11 battleground states: Colorado, Florida, Iowa, Michigan, Nevada, New Hampshire, North Carolina, Ohio, Pennsylvania, Virginia, and Wisconsin.
But, even with all that data to consider and the myriad methods networks employ to predict this election's outcome, as of Nov. 7 The Los Angeles Times reports that recent polls show that the results are leaning in Democratic candidate Hillary Clinton's favor. Of course, there are still a lot of uncertainties and things that could change last minute. But most poll analyses, as well as election prediction website FiveThirtyEight, also agree current predictions. The latter has predicted that, by Election Day on Nov. 8, Clinton will lead the field with 70.3 percent support. Republican candidate Donald Trump will follow behind at 29.7 percent, while third party candidates Jill Stein for the Green Party and Libertarian Gary Johnson will fall in the single digits.
Of course, things can quickly change, so while some are content waiting patiently until the official results are announced, some voters may want to know every shift in the numbers the moment they happen. Previously, there haven't been many options for that, but this year a startup called VoteCastr, along with media outlet Slate, plans to gather and publish voter-turnout information in real-time while tracking the likely outcome of the election.
For now, it appears that most projected election results suggest that Clinton will be the 45th president of the United States. But it's not a done deal, of course, until it's officially official — until all votes are counted on Nov. 8. So make sure to get out and vote tomorrow, if you haven't already, to make sure that your voice is heard.