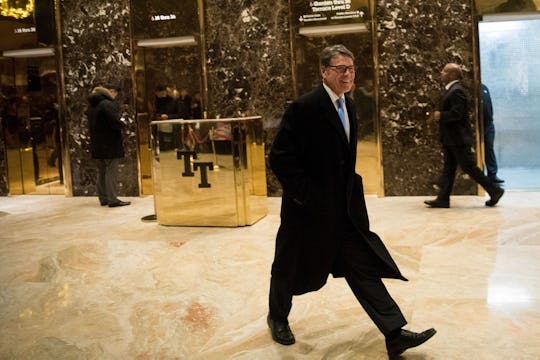 Drew Angerer/Getty Images News/Getty Images
What Are Rick Perry's Ties To Big Oil? He Wanted To Get Rid Of The Energy Department
The Cabinet of president-elect Donald Trump continues to take shape this week as he adds several names — many of them familiar — to his roster. One name, his top pick for the head of the Department of Energy, might be especially familiar since he was just vying for the presidency himself — although he would be a controversial choice. What are Rick Perry's ties to Big Oil? Well, he is from Texas — the nation's most oil-rich state.
Perry, the longest-serving governor of Texas, vied for the Republican nomination in the 2016 presidential race but lost to now president-elect Trump. He also ran back in 2012, which was the first time many Americans really got to know the politician. Perry's campaign in 2012 didn't exactly go down in history as being a successful one: while he had an initial lead over Mitt Romney, his numbers began to rapidly fall as a result of what the media dubbed serious "gaffes" on his part. Many of them occurring not just on the campaign trail, but in primary debates.
The most memorable of Perry's gaffes is directly related to his appointment by the Trump administration: during a Republican primary debate in 2011, Perry was asked what three state departments he would cut if he became president. He named the first two (Commerce and Education) without issue, but then spent an agonizingly long 53 seconds trying to come up with the third. When he couldn't come up with the name, he now-infamously uttered "Oops." Of the gaffe, Perry later went on record to clarify: "It was the Department of Energy that I was reaching for before," — the department he's now going to head up in Trump's administration.
Perry's ties to Big Oil and other energy-based issues don't just relate to his gubernatorial reign in Texas — he also sits on the corporate board for Energy Transfers Partners, which is the company building the Dakota Access Pipeline. During his two presidential bids, Big Oil was among Perry's biggest campaign contributors.
When it comes to other energy-related concerns, Perry's stance on climate change is, like many in Trump's growing cabinet, not based in science. In fact, Perry has flat-out accused climate scientists of manipulating their data in order to get research funding.
While Perry acknowledges that the Earth's climate has changed, he doesn't believe the changes are manmade. When his own state was threatened by devastating wildfires in 2011 — arguably a direct effect of climate change — he urged his constituents to pray. Actually, he didn't just urge them — he issued a formal government proclamation as governor asking the people of Texas to pray for rain. It wasn't the first time Perry pulled God's will into politics: in 2010, he notably referred to the BP Oil spill as "an act of God."
Perry also has something in common with Trump other than politics: neither are strangers to reality TV. After he didn't succeed in nabbing the 2016 Republican nomination, Perry joined the cast of Dancing With The Stars. Although he didn't win that competition either, he called the show "a first class operation."
Of course, the TV spot that most people remember Perry from is his scathing political advert disparaging homosexuality: "There's something wrong in this country when gays can serve openly in the military but our kids can't openly celebrate Christmas." No word on what Perry thought of Trump Tower's impressive Christmas decorations when he visited recently to talk to the president-elect about his shiny new appointment, but since he's never been great at remembering dates, maybe he's forgotten what holiday is coming up.