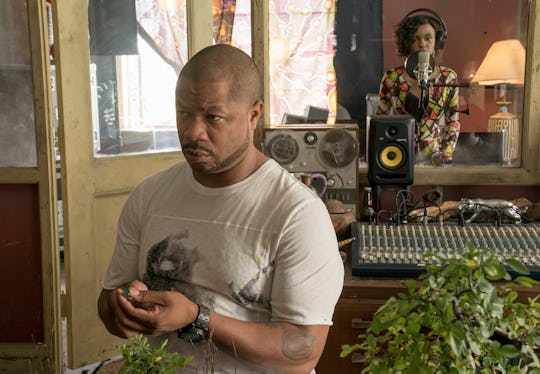 Chuck Hodes/FOX
What Are Shyne And Tariq Up To On 'Empire'? They May Have A Plan For Freda
There's plenty of drama to go around this season of Empire. From Bella, Hakeem's baby, to Andre's rebound from his wife's death, to Cookie's possible new love interest, the Lyon family have certainly not relaxed. It's evident, though, that those adjacent to the Lyons are also trying to get in on the action. On Wednesday's episode, seemingly opposing outsiders – Shyne and Tariq – may be joining forces. What are Shyne and Tariq up to on Empire...and what does it have to do with Freda?
In case you need a refresher after the World Series rudely interrupted new episodes of Empire, Shyne – played amazingly by rapper Xzibit – is a rival record producer. Shyne and Lucious have been adversaries for a long time; in fact, it was he who got Lucious' friend Bunkie killed in the very first episode of Empire. Clearly, he and Lucious haven't reconciled.
Lucious also has beef with Tariq, FBI agent and his half-brother. Tariq is out for revenge, but as of now we're not sure why. Morocco Omari, who plays Tariq, addressed the big question. He told TVGuide.com, "That question hasn't been answered yet." He continued that this may have to do with their shared father. Tariq "never got to meet him. I never spent time with him; I always wanted to know him."
Though very different, Shyne and Tariq have one thing in common: hatred of Lucious. This definitely explains their coming together at the end of Wednesday night's epsiode. There's another element in the mix, though, that's harder to decode: what is Freda doing there?
Another refresher: rapper Freda Gatz was jailed for shooting Jamal at the end of last season. It seemed that when Shyne and Tariq got to her, though, that she was released. What could they have planned for her? It's surely related to Lucious, if not the entire Lyon family. Perhaps it has to do with Shyne signing her and her leaving Empire – but because Tariq is involved, it's definitely more than that.
Freda may be involved in a scheme to take down Lucious – and more than just from a professional standpoint. As of now, we're left wondering; we don't even know what Shyne and Tariq have planned between the two of them. Freda complicates the mix, not only because she's signed to Empire but because she shot a member of the Lyon family. How this will play out, we just have to keep watching.