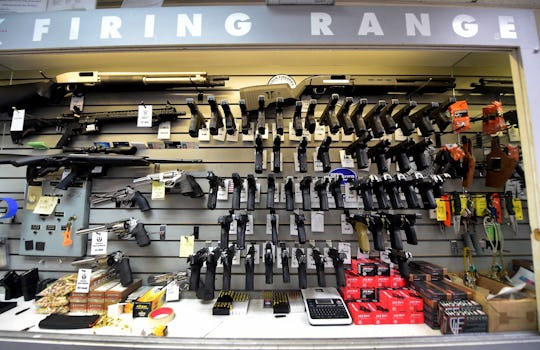 FREDERIC J. BROWN/AFP/Getty Images
What Are South Carolina's Gun Laws? The Townville Elementary Shooting Has Many Concerned
Two students and one teacher were injured at Townville Elementary School in South Carolina following a shooting on Wednesday afternoon, authorities reported. The suspect, who was reportedly a teenager, was taken into custody shortly after, according to police. Luckily most of the students were evacuated from the school by armed officers. Authorities are allegedly also investigating another shooting nearby the school that they think might be connected. Given the slew of similarly concerning incidents in recent years, it's likely that many — especially parents — are wondering what South Carolina's gun laws are, and how a teen could get their hands on a weapon.
Update: In a statement to Romper, an Anderson County Sheriff's Office spokeswoman confirmed the suspect was carrying a handgun and had shot and killed his father just prior to the incident at the elementary school.
South Carolina has pretty lenient gun laws and although there has been no confirmation yet about what kind of weapon the shooter was using or where it came from, there's a good chance that there won't be much paperwork attached to the firearm. The only type of gun that you need a permit to carry for in South Carolina is a handgun. But you don't need a permit to purchase one or a license to own a handgun. When it comes to shotguns and rifles, users don't need a license to own or a permit to carry at all. It's also a concealed carry state, although, according to the NRA's own guide, "It is unlawful to carry a firearm onto private or public school property."
Once you pass a background check and purchase a gun, you can apply for a concealed carry permit. Outside of that, it's only legal to keep the gun in your glove box or the the middle console of a vehicle and on your personal property. To carry it anywhere else, gun owners have to take a six to eight hour class and show that they "qualify" with the weapon, which means shooting at least 50 rounds and "prov[ing] you are proficient with the firearm," according to ABC 15 News in South Carolina.
Nonetheless, guns are a common thing to find in South Carolina schools. Just this spring, in May, a teen at Southside High School in Greenville County was accidentally shot in the high school's cafeteria. Four students allegedly connected to the incident were charged with unlawful possession of a weapon on school property and "disturbing schools."
Now that the Townville Elementary School shooter is in custody, parents everywhere are likely hoping to find out how he got a gun and whether it was legal under South Carolina law.