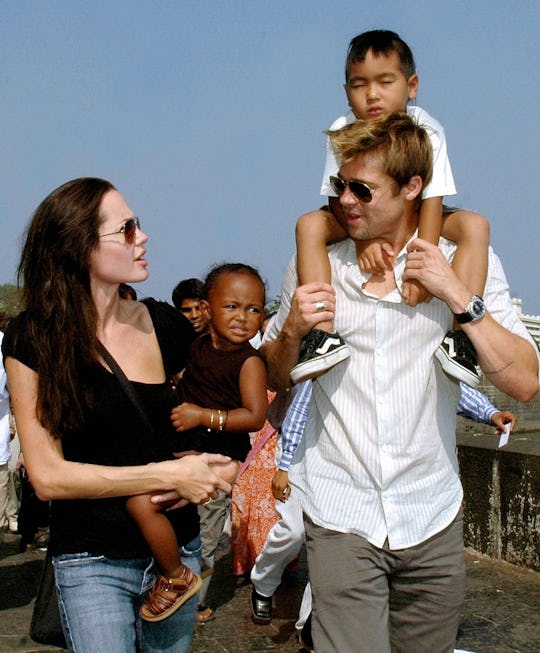 STR/AFP/Getty Images
What Are The Abuse Allegations Against Brad Pitt? Report Details Alleged Parenting Issues
Angelina Jolie has filed for divorce from Brad Pitt, her husband of two years, citing irreconcilable differences, according to a report from TMZ. The news broke on Tuesday that the couple, often called Brangelina by fans and the media, were splitting after being together since 2004. Together they have six children, and recent reports indicate that parenting differences may have lead to the split. As of Thursday morning, reports are coming in that allegations of child abuse against Brad Pitt are being investigated by the Los Angeles Police Department, according to TMZ. No official charges have been brought against Pitt and a request for comment to Pitt's rep regarding the allegations was not immediately returned. Right now the allegations are purely speculation.
Update: The LAPD has denied that it is investigating any allegations of abuse against Brad Pitt, according to the Independent. A source close to Pitt reportedly told the Independent:
He takes the matter very seriously and says he did not commit any abuse of his children. It's unfortunate that people involved are continuing to present him in the worst possible light. I think the most important thing is the fact that he is co-operating and that he takes it seriously, he recognizes it is a serious matter and he is willing to do whatever will be best for his family.
A statement by Jolie's lawyer to PEOPLE said, that Jolie "has filed for dissolution of the marriage. This decision was made for the health of the family," but has not made mention of any allegations against Pitt as of Thursday morning.
PEOPLE confirmed that the allegations are being investigated and cited a source who told them that Pitt became "verbally abusive" and "physical" toward one of his kids while the family was on their private jet. The source told PEOPLE that someone at the airport anonymously reported the incident – which may have continued even after the family de-planed — to the LAPD and L.A. County Department of Children and Family Services.
A source told TMZ that it was possible Pitt had been drinking at the time of the incident, but there is no proof of this allegation. No further details have been released, and the investigation is ongoing.
Pitt responded to the divorce filings through his rep in a statement to PEOPLE on Tuesday:
I am very saddened by this, but what matters most now is the well being of our kids. I kindly ask the press to give them the space they deserve during this challenging time.
In the divorce papers, Jolie stated the separation began on Sept. 15, the day after the alleged incident on the plane. She requested physical custody of the six Jolie-Pitt children, but asked that Pitt be granted visitation. She is not asking for spousal support, according to PEOPLE.
The couple met during the filming of Mr. and Mrs. Smith (2005), while Pitt was still married to his first wife, actress Jennifer Aniston. Jolie was previously married to actors Johnny Lee Miller and Billy Bob Thornton.
Before Jolie and Pitt got together, she had adopted two children: Maddox and Zahara, who Pitt eventually adopted. Together, the couple have four children: Pax, Shiloh, and twins Vivienne and Knox.