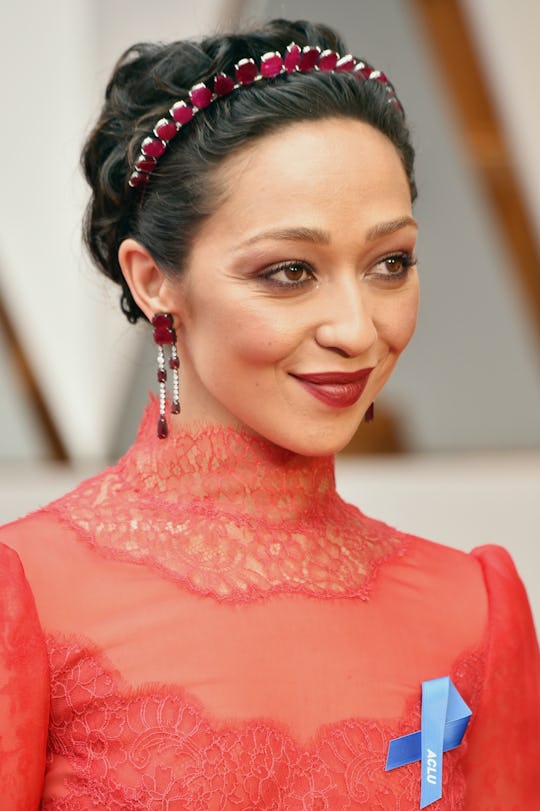 Frazer Harrison/Getty Images Entertainment/Getty Images
ACLU Blue Ribbons Are All Over The Oscars
As Hollywood's finest continues to make their way down the red carpet at the 89th annual Academy Awards, a growing list of stars are showing their opposition against President Donald Trump's immigration ban and other controversial policies in a simple, yet very symbolic way. The little piece of fabric pinned on tuxedos and designer gowns may have some wondering what the blue ribbons are at the 2017 Oscars and what this extra accessory represents.
Earlier this week, the American Civil Liberties Union launched a new "Stand with ACLU" initiative, encouraging Hollywood stars to wear a blue ribbon on the red carpet "as a symbol of solidarity with the nonpartisan, nonprofit organization, which has worked for nearly 100 years to defend and protect individual rights and liberties guaranteed by the Constitution and law of the U.S.," according to The Hollywood Reporter.
Actress Ruth Negga, who is nominated for her role in Loving, and Hamilton's Lin-Manuel Miranda as well his mother Dr. Luz Towns-Miranda, were some of the first spotted wearing blue ribbons with "ACLU" written in white on the Oscars' red carpet on Sunday night.
According to NPR, actor Casey Affleck also supported the ACLU by wearing one on his lapel at Saturday's Film Independent Spirit Awards and made a political statement during his acceptance speech, slamming Trump's wave of executive orders.
"The policies of this administration are abhorrent, and they will not last and they are really un-American," Affleck said on Saturday, according to NPR.
Negga's stylist Karla Welch took to Instagram on Sunday evening and posted a close-up photo of the star's ribbon pinned to her ruby red long-sleeve gown, writing, "The accessory I'm most proud of #ACLU #MegaNegga."
The ACLU has had a major presence throughout this year's awards season. According to Billboard, actress Sarah Paulson gave the nonprofit organization a shout out when she received her award for outstanding performance by a female actor in a miniseries or television movie at the Screen Actors Guild Awards, asking others to donate anything that they could to the ACLU. "Any money you have to spare, please donate to the ACLU," Paulson during her speech, according to Billboard. "It's a vital organization that relies entirely on our support."
Support for the ACLU has skyrocketed in the days after Trump signed an executive order temporarily banning immigrants from seven predominantly Muslim countries, raising $24 million in online donations in a weekend, according to The Washington Post.
As the end of awards season nears, this added support on the numerous red carpets has certainly had an impact on the exponential level of support for the ACLU as they continue to fight Trump's many controversial policies.