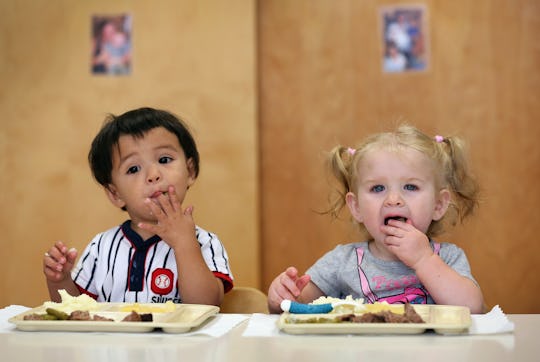 John Moore/Getty Images News/Getty Images
Here Are School Lunch Rules HR 610 Could Change
In January, House Bill 610 was introduced to the House of Representatives by Iowa Rep. Steve King. The "Choices in Education Act of 2017" would introduce an education voucher program and the "No Hungry Kids Act," which would repeal national school lunch nutrition guidelines. Many parents and educators have criticized the act, but what would the No Hungry Kids Act do if passed? And what do the current school lunch nutrition guidelines look like?
The nutrition guidelines currently in place for school lunches and breakfast programs are a legacy left in place by former first lady Michelle Obama and former Agriculture Secretary Tom Vilsack, who introduced the updated rules in 2010 as part of the Healthy, Hunger-Free Kids Act. The guidelines were the first updates to school nutrition guidelines in 15 years, according to the United States Department of Agriculture, and affected the daily meals eaten by the approximate 32 million kids participating in school meal programs.
The changes required most schools to increase the number of whole grains, fruits, vegetables, and fat-free or low-fat milk available in school meals, and mandated a reduction in levels of sodium, saturated and trans fats, and balance nutritional needs with caloric restrictions. The updated guidelines were created with recommendations made by the Institute of Medicine of the National Academies and were meant to increase kids' health and lower childhood obesity levels in the country.
As of 2012, in order to receive federal reimbursements, schools needed to meet the following regulations, among others:
Offer fruit daily
Include a variety of different vegetables throughout the week
Increase the amount of fruit available to five cups per week
All grains must be whole grain-rich (at least 51 percent whole grain)
Offer a range of meats
Have only fat-free and low-fat milk available
Remove added trans fats
Meet dietary specifications (such as calorie ranges, saturated fat limits, and sodium targets)
Have reimbursable meals include at least one fruit or vegetable
Have water available for free at mealtimes
The guidelines are important, for multiple reasons. According to the Centers for Disease Control and Prevention, 1 in 5 school-aged children has obesity, and the number of obese children has tripled since the 1970s in the United States. Children with obesity have a higher risk of developing other chronic health conditions, such as asthma, Type 2 diabetes, bone problems, sleep apnea, and heart disease. They're more likely to suffer from social isolation, lower self-esteem, and depression, and many will continue to battle obesity in their adult life.
According to Harvard's School of Public Health, multiple studies have shown the benefits of healthy school lunches: One CDC report found that low-income children participating in federal nutrition programs showed declining levels of obesity, while two other studies showed an increase in fruit and vegetable consumption among children.
For many parents, it's unclear why Rep. King wants to do away with current nutrition guidelines. If you're concerned, contact your representative to talk about H.R. 610 and make sure your voice is heard.