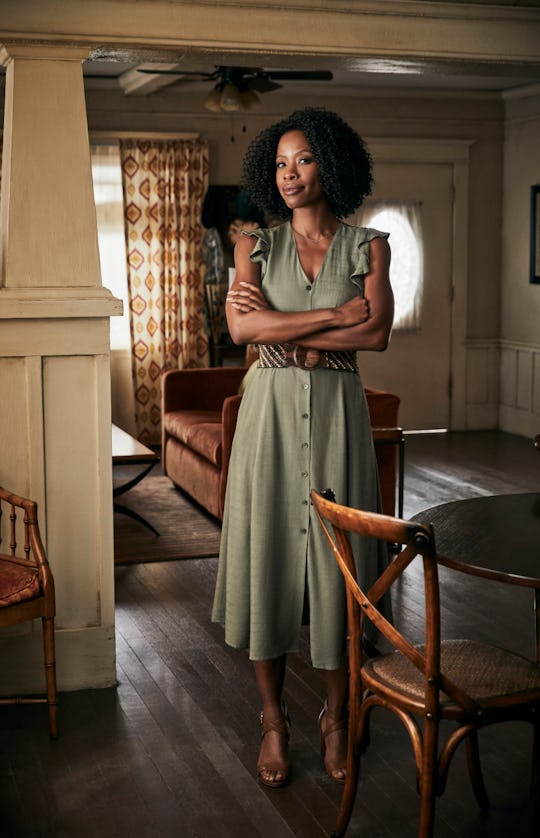 Art Streiber/The CW
Everyone Should Be Watching The CW's 'All American'
The CW is where great soapy teen dramas are born, and the network's new show All American is no different. A teen football star finds himself suddenly plucked from his life in South Central LA to live with his coach's family in Beverly Hills. The story obviously centers on the kid, but I couldn't help asking myself, what about his poor mother? So I went right to the source. Karimah Westbrook, who plays the young lead's mom in the show, spoke to Romper about a teen drama from the perspective of Mom. Westbrook spoke to why her character would let her son live with another family for five days out of the week, and how she got in touch with her character in such a difficult situation.
When the audience is introduced to the show's lead, Spencer in All American, it is immediately clear that, for an angsty teenage boy, he has an unusually close and respectful bond with his mom and his family. When the football coach, played by Taye Diggs, from nearby Beverly Hills offers to move Spencer to Beverly Hills High School, and eventually his own home (it's a long story), Spencer's mom ardently urges him to go. Westbrook agrees that had she herself been in that position she would have done the same thing — though obviously it would have been crushing. "But as a mom, I could never let him know that because he wouldn't do it," she says, speaking from the perspective of her character.
Though Westbrook herself does not have children, she explains that her approach to acting is to embody the character as fully as she can. "I don't really feel like there's any real separation," she says. "I feel like the only thing we do have is our soul. You will never not be you." She goes on to explain that though her experience and reality is different from her character's, it is her job to make that reality her own, while acknowledging her character's unique challenges. Her character has two sons, so Westbrook tapped into her experience caring for her niece to imagine what it would be like to raise two young boys. "To raise two young black men in America today, I have no idea what that's like personally. So it did require some work as far as my imagination and making things real for me."
While All American is as much about family as it is about teen drama, Westbrook wants to be clear that there are plenty of "juicy storylines" in the show as a whole. It really wouldn't be the CW if there weren't, after all. Though Westbrook refuses to give any spoilers about specifics, she does tease that elements of the show will connect with everyone. "I'm excited for people to just see the show in general because I think that everyone will connect with something different about it. Whether if it's with the kids, whether if it's with Spencer, if it's having a dream... ya know overcoming an addiction, rather if it's single mom, interracial relationships. It's just a number of things that it kind of covers in a very unique way."
So whatever it is that fans are tuning in for, everyone can be sure to be glued to their seats throughout.
All American premieres on CW Oct. 10 at 9pm ET.