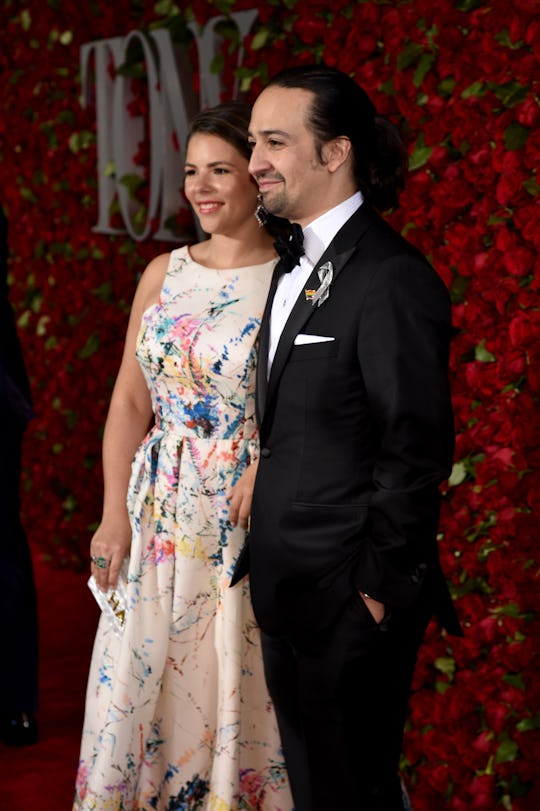 Bryan Bedder/Getty Images Entertainment/Getty Images
What Are The Ribbons They're Wearing At The Tonys? Broadway Remembers The Orlando Victims
Broadway's biggest and brightest stars gathered at the New York City's Beacon Theatre on Sunday to celebrate the 70th Annual Tony Awards. In addition to the glamorous gowns and suits, attendees donned a very special accessory, leading many to wonder, "what are the ribbons they're wearing at the Tonys?"
Normally a joyous occasion, the Tonys aired the same day tragedy struck the city of Orlando, Florida. Early Sunday morning, a gunman opened fire at Pulse, a gay nightclub, killing more than 50 people and injuring an additional 52. The incident left many mourning and wondering what they could do to show their support. In addition to honoring the victims with a moment of silence Sunday evening, Tonys attendees donned translucent ribbons to honor the Orlando victims of the Pulse nightclub shooting. Everyone from host James Corden to Hamilton star Lin-Manuel Miranda adorned silver ribbons in honor of the victims. According to People, the special silver ribbons were designed by William Ivey Long, a veteran Broadway costumer and a six-time Tony winner.
In a statement from the Tony Awards Productions team, it was announced that the show will be dedicated to the victims of the Orlando shooting:
Our hearts are heavy for the unimaginable tragedy that happened last night in Orlando. Our thoughts are with the families and friends of those affected. The Tony Awards dedicate tonight's ceremony to them.
Looking out at the crowd it looks like every single nominee and presenter is wearing a ribbon with pride in honor of all victims.
James Corden also opened the Tonys with a heartfelt speech, acknowledging the tragedy in Orlando and reminding viewers that on Broadway all are accepted no matter their race, gender, or sexual orientation. He, as well as all those in attendance at the Tonys, sent their well wishes to all those affected by the tragedy.
Broadway has always been a place of love and support for people from all different backgrounds, and it's not surprising that they have dedicated the Tonys to the Orlando victims. The tragedy took place at a venue for LGBTQ people and during Pride month and is now considered a hate crime, according to NBC News. But in typical Broadway fashion, rather than responding with hate, the theatre community is spreading and celebrating love in the best way.
In addition to showing support on the red carpet, Broadway stars also Tweeted out their support to the victims earlier in the day.
In tragic times, it's heartwarming to see one community come together to support another.