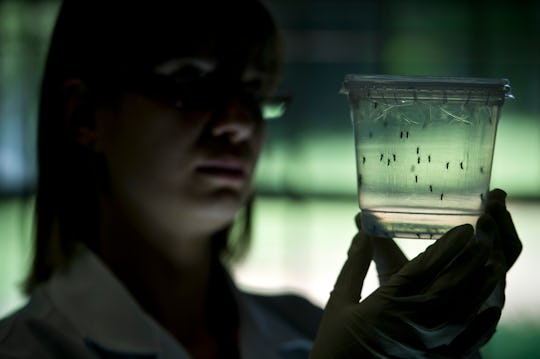 NELSON ALMEIDA/AFP/Getty Images
What Are The Symptoms Of Zika Virus? The Disease Can Be Dangerous For Pregnant Women
The Centers for Disease Control has issued a travel warning for pregnant women as more cases of Zika virus continue to be documented throughout South America, the Caribbean, and Hawaii. The virus has reportedly caused birth defects in Brazil, but the symptoms of Zika extend beyond that. According to the CDC, only 1 in 5 people infected with Zika show symptoms like fever, rash, joint pain, and conjunctivitis. Muscle pain and headaches may also occur after infection. Most symptoms last no longer than a week, and while deaths and hospitalization due to the illness are rare, there is no vaccine or medication to treat any of the related symptoms. Overall, the virus stays in the body for a few weeks.
If someone's been infected, they're advised to stay inside to avoid getting any more mosquito bites, which is how officials believe the disease is spreading. (Scientists claim that the insects can transmit the disease to the next person it nibbles on.) Outbreaks have been documented in Central and South American, Africa, Southeast Asia, and the Pacific Islands. Health officials in those areas are asking people to help them contain the virus by getting at these mosquitoes through the use of sand in potted plants, urging citizens to clean those same pots in order to prevent the growth of more mosquito eggs.
While the virus isn't deadly, it has, as previously mentioned, been causing birth defects: In Brazil, some babies have been born with microcephaly, which causes smaller heads and possibly under developed brains.
In Hawaii, a child was born with the same condition, likely because the mother had contracted Zika while she was living in Brazil and the child contracted it in the womb. Over 3,500 cases have been reported in Brazil since October and U.S. health officials have been dispatched to investigate, according to the Associated Press.
The CDC has warned pregnant women to not travel to areas where cases have been reported to prevent against any possible defects. In Jamaica, the health minister has even gone as far to advise women to take extra measures to prevent pregnancy in the coming months while the connections between Zika and microcephaly are explored. There are other possible causes for microcephaly like genetic issues, alcohol use, or rubella during pregnancy.
If residents do intend to travel to Brazil, Colombia, El Salvador, French Guiana, Guatemala, Haiti, Honduras, Martinique, Mexico, Panama, Paraguay, Suriname, Venezuela, or Puerto Rico while pregnant, the CDC has recommended that they apply sunscreen first and then insect repellant, in addition to wearing long sleeves and pants (which sort of defeats the purpose of a beach vacation, right?).
In other words, if you're looking to play it safe, for now you might want to consider staying at home and saving the vacation for later — maybe cross your fingers and hope that health officials will be able to prevent many more cases of Zika from spreading as well.
Image: NELSON ALMEIDA/AFP/Getty Images