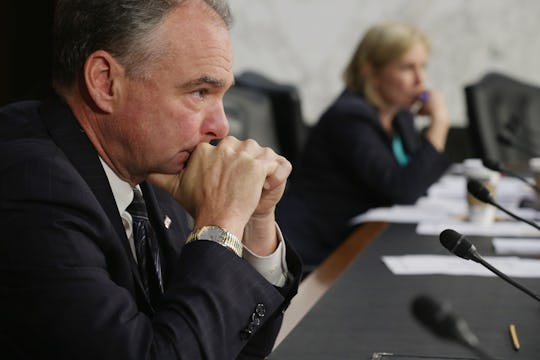 Chip Somodevilla/Getty Images News/Getty Images
What Are Tim Kaine's Second Amendment Views? He Has Personal Connections To The Issue
The presumptive Democratic presidential nominee, Hillary Clinton, named Virginia Sen. Tim Kaine as her choice for vice president on Friday night. Kaine brings with him nearly two decades of experience in politics, starting as the mayor of Richmond, Virginia in 1998 to becoming his state's governor for four years before becoming a U.S. senator in 2013. In the wake of the nightclub shootings in Orlando, Florida and Dallas, Texas in the past few weeks, the issue of gun safety has become a top priority for many Americans. So, what are Tim Kaine's Second Amendment views? His time as the governor of Virginia has profoundly affected both his stance and resulting policy actions — largely due to the Virginia Tech school shooting that occurred in April 2007.
Just three days after 32 people were shot and killed — including both students and professors — at Virginia Technical University in Blacksburg, Virginia, Kaine formed an eight-member independent panel to examine both the police and school's response to, as well as the factors leading up to what was at the time the deadliest mass shooting in American history. The panel issued a scathing report with over 70 recommendations on ways the shooting could have been prevented.
Just two weeks after the shooting, Kaine signed an executive order to close massive gaps that existed between federal and state gun laws, motivating congress to act as well. Congress passed the National Instant Criminal Background Check System (NICS) Improvement Amendments Act of 2007. Signed by President George W. Bush in 2008, the bill mandated more accurate record-keeping and reporting to the NICS from states so that guns could not be sold to people with a history of domestic violence or who have been declared mentally ill.
After the Virginia Tech shooting, as senator, Kaine has voted consistently on common sense gun reform legislation. Kaine has a 100-percent rating from the Brady Campaign — and an "F" grade from the National Rifle Association.
In June, Kaine was one of more than three dozen members of congress who participated in a 15-hour Senate filibuster on gun control in the wake of the Orlando nightclub shooting. Kaine held the floor for nearly a half hour, urging the government to act now on gun reform in a powerfully moving speech. Kaine recalled the day of the Virginia Tech shooting as "the worst day of my life, and it will always be the worst day of my life." He continued:
I can't say I would be a hero. But in this body, we don't have to be heroes; we just have to not be bystanders. We have been bystanders in this body. We have been bystanders in this Nation as this carnage of gun violence has gone from one tragedy to the next. To cast a vote, that is not heroic. To stand up and say, "We can be safer tomorrow. We can protect people's lives," that is not heroic. That is just saying I will not be a bystander. And that is all we have to do--stop being bystanders.
Kaine's entire filibuster speech is definitely worth the watch:
What makes Kaine such a refreshing choice for Clinton's VP pick is that he's not a hardline, far-left liberal on the issue of Second Amendment rights: He's a gun owner who gets the need for gun safety reform, even in a state like Virginia where the NRA has their headquarters. On Kaine's official Senate website, he shares his views on gun safety:
I strongly support Americans' right to bear arms. As a lawyer I fought to constitutionally protect the right of all Virginians to hunt and fish and I respect the rights of responsible gun owners, like myself, in Virginia and across the nation. But I also believe we must take concrete steps to reduce gun violence.
It's a nice change of pace to hear a responsible gun owner so outspoken for gun violence prevention as one like Kaine, who has the political and personal experience to back up his Second Amendment stance.