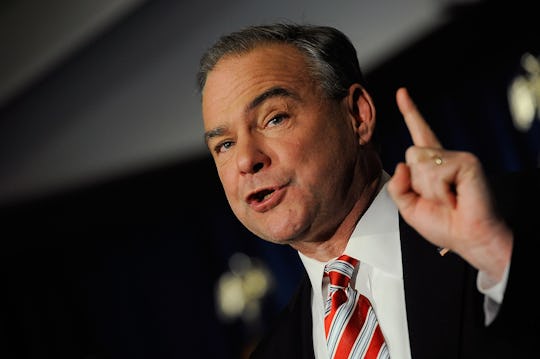 Patrick McDermott/Getty Images News/Getty Images
What Are Tim Kaine's Views On Women's Issues? His Previous Campaigns Have Supported Many
In just a few weeks this year's presidential candidates will be announcing their desired running mates. One of the top contenders on the Democratic side has been Virginia Sen. Tim Kaine. His political experience is extensive and his resume includes some impressive titles, having served as a mayor, governor, and chairman of the Democratic National Committee. But, what are Tim Kaine's view on women's issues? The religious family man been considered to be one of the best picks to run alongside presumptive Democratic presidential candidate Hillary Clinton.
Clinton's campaign has been heavy on women's issues and has committed to ensure equal pay for women, to defend women's health and reproductive rights, and to fight for paid family leave as well as affordable child care.
In 2012, Kaine's senate campaign also focused heavily on women's issues and supported many policies to increase access for health care and educational opportunities. In the past, he's often defended issues that primarily and commonly affect women, saying these issues have many more factors other than only being an issue for women.
"It's demeaning to suggest that issues about women are just social issues and not economic issues," Kaine said in a 2012 debate, according to The Washington Post. "If you force women to have an ultrasound procedure against their will, and pay for it, that's an economic issue. If you deny women the opportunity, because of personhood legislation, to make constitutional choices, even including whether to purchase contraception, that's an economic issue."
Health Care & Contraception
Kaine has actively defended health care for women. In 2014, he and 34 other senators introduced legislation to protect women's health care after the Supreme Court backed a decision made by Hobby Lobby that made it possible to deny women access to critical health care services, including contraception.
"Contraception is an important preventive health service, not only for women, but also for our society," Kaine said in a 2014 interview with 99.3/105.7 Kiss FM in Richmond. "I will continue to do everything I can to reverse this attack on women's health care rights."
Abortion
Kaine, a Roman Catholic, personally opposes abortion, which he has said is a "faith-based objection." He hasn't called to overturn the Roe v. Wade decision — the landmark case that made abortion a fundamental right — but has rather positioned himself to increase access to contraception and health as well as education.
"I strongly support the right of women to make their own health and reproductive decisions and, for that reason, will oppose efforts to weaken or subvert the basic holding of Roe v. Wade," Kaine wrote on his campaign site when he ran for Virginia governor in 2005. "We all share the goal of reducing unwanted pregnancies and abortions. The right way to do this is through education and access to health care and contraception rather than criminalizing women's reproductive decisions."
Childcare For Working Parents
Kaine, along with fellow Virginia Sen. Mark R. Warner, backed $4 million of funding that would improve access to quality and affordable childcare for working parents in several cities across Virginia.
"This is a long-term investment in the Roanoke Valley," both senators wrote in a press release in January this year. "When lower-skill, working parents have the opportunity to access affordable child care, they can go out and get skills and training that will allow them to get better-paying jobs and provide a better future for their children."
The senator has been considered safe, experienced, and uncontroversial, despite his opposition to abortion. He's fluent in Spanish, comes from a working class family, and was also on President Barack Obama's VP shortlist in 2008. All of his credentials and experience and even his stance on women's issues might make Kaine a safe choice for Clinton in an already rocky election.