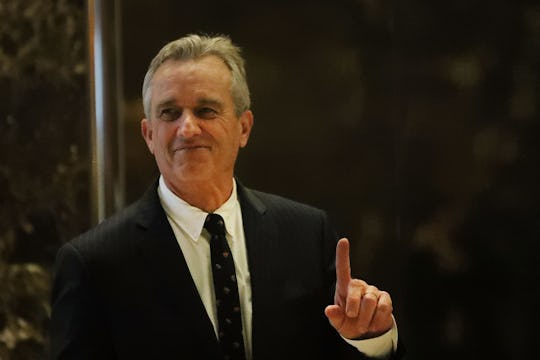 Spencer Platt/Getty Images News/Getty Images
What You Should Know About Vaccine Exemptions
President-elect Trump, who has made the oft-disputed claim that vaccines cause autism, has assigned another vaccine skeptic to a questionable task in his administration. Robert F. Kennedy Jr. will chair a new commission on vaccine safety and scientific integrity, which is deeply concerning given his track record on vaccine exemptions. But what are vaccine exemptions, exactly? Romper has reached out to the Trump transition for comment on Kennedy's chair appointment and is awaiting a response.
Update: In an email statement to Romper, transition team spokeswoman, Hope Hicks, said through her representative: "The President-elect enjoyed his discussion with Robert Kennedy Jr. on a range of issues and appreciates his thoughts and ideas. The President-elect is exploring the possibility of forming a commission on Autism, which affects so many families; however no decisions have been made at this time. The President-elect looks forward to continuing the discussion about all aspects of Autism with many groups and individuals."
Essentially, these exemptions are a way for parents to avoid vaccinating their children. In particular, though, Kennedy supports non-medical vaccine exemption, the dangers of which are vast, seeing as under-vaccination can cause outbreaks. Despite this history, Kennedy has said that both he and Trump are "very pro-vaccine," and are simply working towards making vaccines "as safe as they possibly can be."
Additionally, Kennedy shared: "President-elect Trump has some doubts about the current vaccine policies and he has questions about it." Kennedy also asserted: "[Trump's] opinion doesn't matter but the science does matter and we ought to be reading the science and we ought to be debating the science." So, despite the reputation that Kennedy's a vaccination conspiracy-theorist — given the multiple articles he's penned and the occasions on which he's spoken that have contradicted accepted scientific opinion on vaccines — Trump has appointed him to publicly and politically continue to doubt the efficacy of vaccines.
Though recommendations are made on the federal level, vaccine requirements are determined by state. The National Conference of State Legislators notes that, presently, "almost all states grant religious exemptions for people who have religious beliefs against immunizations," with 18 states even allowing vaccination exemptions due to "personal, moral, or other beliefs."
Despite what Trump and Kennedy have alluded to, or even said outright, research affirms that vaccines do not cause autism. Whereas Kennedy is, by his estimations, "debating the science," science has time and time again proven that there is no link between vaccination and autism risk. The benefits of vaccination, in fact, are countless: Not only are children better protected by their peers' being vaccinated, but the sheer volume of prevented illness provides dramatic estimated monetary savings, as far as healthcare costs go.
In Trump's asking Kennedy to head a commission on vaccine safety, the president-elect is continuously working towards establishing a political Cabinet that doubts science in favor of conspiracy theories. From Trump's insisting that climate change is a hoax invented by the Chinese to his past questioning of President Obama's birth country, Trump has a history of disregarding facts. Unfortunately, then, an anti-vaxxer seems to be a perfect, albeit ironic Trump choice to assess the science behind vaccination.