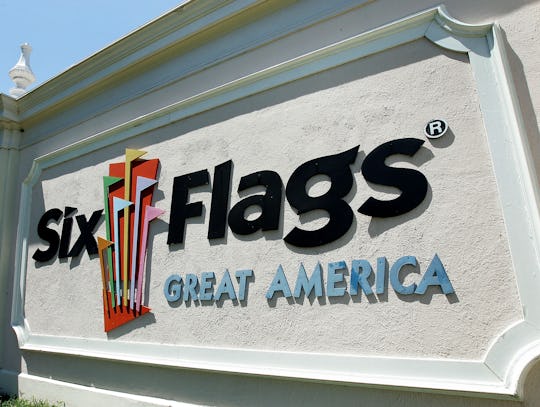 Tim Boyle/Getty Images News/Getty Images
This Is Where You Can Breastfeed At Six Flags
As if breastfeeding itself isn't hard enough, you have to consider breastfeeding in public if you plan to ever leave the house. Breastfeeding in public can be intimidating at times, especially when you're not sure of what your rights are as a nursing mom, which is why being familiar with the laws that protect you can definitely ease your anxiety. So if you're heading somewhere fun with the family, being knowledgable is a must. Like, what are your breastfeeding rights at Six Flags?
A few Six Flags amusement parks nationwide have recently been under fire for asking breastfeeding mothers to either "be discreet" or leave, according to The Baltimore Sun. A local NBC news station in Illinois also noted that a Chicago woman breastfeeding with a cover was asked to move to one of the two designated private breastfeeding areas or stop nursing at a Six Flags. Both states have laws that allow mothers to breastfeed in any public location.
In fact, according to the National Conference of State Legislatures (NCSL), 49 states, plus the District of Columbia and the Virgin Islands, all have laws that specifically allow nursing mothers to breastfeed in any public or private location where mom and baby are both allowed. As of now, Idaho is the only state with no specific laws protecting breastfeeding mothers, nor does it seem that there will be any there soon. By virtue of these laws, in all other states, mothers are lawfully able to nurse their babies in most public locations, such as Six Flags.
If you prefer a private space to breastfeed, many Six Flags locations also have private, often air-conditioned nursing stations with gliders or chairs, and outlets for breast pumps. These are often located by the First Aid or Health Service Stations, though it varies based on the individual parks. The best way to check is to call the Guest Relations number available for your local Six Flags theme park.
Before you head out to your Six Flags park for a day of fun with your family, read up on your state's breastfeeding laws and find out where the nursing stations are at your local park. Knowing your rights will ease your mind and ensure an awesome outing for all of you. If an employee tries to tell you to leave, remind them of their state laws. State laws trump a Six Flags guest being offended by you feeding your baby.