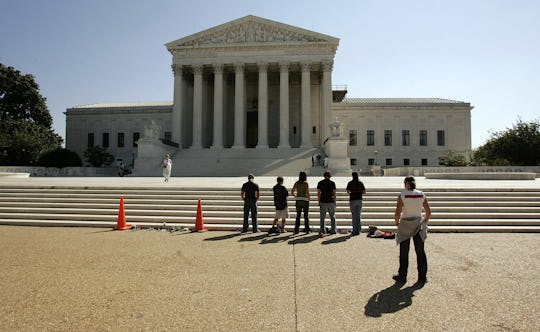 Chip Somodevilla/Getty Images News/Getty Images
Arizona's "Delivered Alive" Bill Will Affect Pregnant Women
On Friday, Arizona Gov. Doug Ducey signed into law the "Delivered Alive Infant Clarification Act," a draconian anti-choice bill that would force doctors to "save the life" of an aborted or preterm fetus if a heartbeat is detected. Reproductive health advocates and medical professional oppose the hotly contested act as a cruel measure that isn't based on facts and will only prolong suffering for both the fetus and the parent. And that's exactly what Arizona's "delivered alive" bill means for pregnant women in the state—prolonged suffering.
According to the Arizona Capitol Times, Arizona is one of 35 states that already have laws on the books mandating physicians "promote, preserve, and maintain life" of the fetus or embryo. But the state's new law is the first piece of legislation to define in statute what it means to be "delivered alive," Arizona Capitol Times reported. Under the legislation, "delivered alive" refers to fetus or embryo that "shows any evidence of life, including one or more of the following: breathing; a heartbeat; umbilical cord pulsation; definite movement of voluntary muscles." While the anti-choice, anti-science bill is a deliberate attack on abortion rights, it also an affront to parents who lose wanted pregnancies.
The law would also require clinics to be outfitted with "a minimum level of neonatal equipment" and have a neonatal professional present during later-term abortions, leading reproductive rights activists to call the bill a new version of Targeted Regulation of Abortion Providers (TRAP) laws, according to Rewire.
Arizona's "delivered alive" law would effect all fetuses delivered at or beyond the 20-week gestation period. That means doctors who deliver preterm infants would be required to resuscitate the baby, even if there is zero chance of survival. And the law was intended that way — Cathi Herrod, head of the anti-choice lobbying group, Center for Arizona Policy, told the Phoenix New Times in February that the bill was intended to include all births because premature labor is still "a termination." "That is an abortion," she said then.
AnMarie Stone wouldn't agree. Last month, Stone stood in front of the Arizona House Judiciary and Public Safety Committee and recalled her heartbreaking story of loss. According to Arizona Republic, she told committee members that she and her husband were excited for the birth of her son, Trevor. They even picked out colors for his nursery. But one night, midway through her pregnancy, Stone started bleeding profusely and was rushed to the emergency room, Rewire reported. She was three centimeters dilated and her amniotic sac "protruded outside her uterus." Her cervix couldn't be repaired. Infection risk was high. She was told that Trevor "could suffer a prolonged painful death in intensive care or a lifetime of devastating disabilities," according to Rewire.
The Stone family faced a tough decision. At the hearing, she said the most compassionate action they could take was to "let Trevor go," Arizona Republic reported. She continued,
He had a heartbeat. He was breathing. He was a child outside his mother. The nurses gently wrapped him in a blanket and gave him to us. My husband and I held him until he was gone. Legislation forcing the doctors to resuscitate him would have been not only unethical, but cruel.
Arizona's "delivered alive" law means Stone and other pregnant people who've lost wanted pregnancies in the state will be forced to witness the prolonged death of their preterm infants. The callous law would also mean that doctors will be forced to continue the suffering of aborted or preterm fetuses beyond any chance of survival. Conservative lawmakers who back this law claim it's about protecting the life of the fetus. What they're really doing, though, is using the fetus as a political football for asserting their worldview on the private decisions of pregnant people and their doctors.
This isn't about life — this is about power.