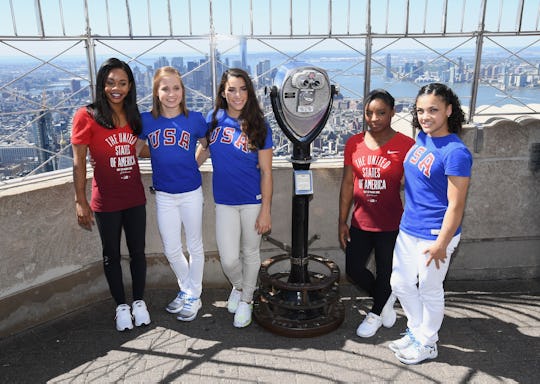 ANGELA WEISS/AFP/Getty Images
What Award Is Michael Phelps & The Final Five Presenting At The VMAs? Look Out For Them
August has been an incredibly exciting month to say the least, thanks to the 2016 Summer Olympics, which started during the second week of August. As August comes to an end, there will be so much to miss about the games, like seeing Michael Phelps and the Final Five on TV screens every day. Luckily, the Olympians will be making an appearance at the 2016 MTV Video Music Awards tonight. For those wondering what award is Michael Phelps and the Final Five presenting at the VMAs, know that it might not be a gold medal, but will still be as special to whoever receives it.
According to Billboard, MTV announced on Thursday that Michael Phelps, as well as the gymnasts comprising the Final Five — Aly Raisman, Simone Biles, Madison Kocian, Laurie Hernandez, and Gabby Douglas — will be presenting an award at the VMAs. The Olympians are certainly qualified to do so — they know how to present their best selves in front of the camera under extreme pressure. And the pressure is on when it comes to announcing which musician has won an award, especially at the VMAs.
Unfortunately, Billboard did not specify what exact award the Olympic athletes will be presenting or if they will be introducing a musical performance. However, just because it isn't known just means that those interested in seeing the Olympians again will have to tune into the whole broadcast just for their appearances — which will definitely be worth it.
The Final Five and Phelps are among dozens of other huge celebrity names who will be presenting awards at the VMAs. According to Billboard, Jimmy Fallon, Kim Kardashian, and Alicia Keys will present awards with other huge celebrities like Kanye West in attendance. Those names are on top of the many who will be there to accept their awards which makes the awards show worth watching for the celebrity appearances alone.
Since the Olympics has ended, both the Final Five and Phelps have been keeping themselves incredibly busy. The members of the Final Five have been making appearances on talk shows, rubbing elbows with celebrities, and scoring tickets to Hamilton (I'm so jealous). Meanwhile, Michael Phelps has purchased a beautiful home in Scottsdale, Arizona.
While the gold medalists have been doing a lot on American soil, they will luckily be taking the time out of their busy schedules to make an appearance at the VMAs for those who miss seeing them on TV. Proving August — and Olympic excitement isn't over yet.