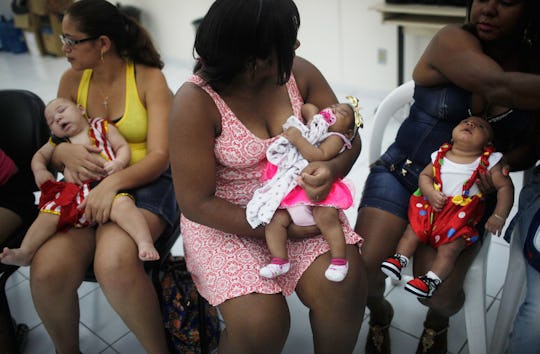 Mario Tama/Getty Images News/Getty Images
What Birth Defects Does Zika Cause? Scientists May Have Underestimated The Risk
As the effects of the Zika virus continue to be felt across South America and the Caribbean, experts met over the weekend to deliver grim news: the mounting number of cases of birth defects connected to Zika may only be the beginning. So, what birth defects does Zika cause? Some might not even be detectable until later in life, making it even harder for doctors and researchers to fully account for the numbers of babies born with complications and developmental difficulties after being exposed to the Zika virus in utero.
"The microcephaly and other birth defects we have been seeing could be the tip of the iceberg," Dr. Sonja Rasmussen of the U.S. Centers for Disease Control and Prevention said at the annual meeting of the Pediatric Academic Societies, according to NBC News.
A frightening prospect for pregnant mothers concerned about what was once thought of as the primary birth defect related to Zika, microcephaly, a condition where a baby is born with a smaller than normal head and suffers from serious brain malformation and damage. But doctors over the weekend concluded that even babies who are born with a normal-sized head can fail to meet developmental benchmarks and show signs of brain damage later in life.
"The true burden of congenital disease with Zika virus is probably underestimated," said Dr. Marco Safadi of the Santa Casa Medical School in Sao Paulo, Brazil, who's been treating and studying cases.
More than 2,800 pregnant women have been confirmed to have contracted the Zika virus so far in Brazil alone.
But there was a spot of bright news at the meeting over the weekend, researchers said Zika infections are on the decline in Brazil, since the weather is drying up a bit, making conditions less ideal for the primary carrier of the Zika virus, the Aedes aegypti mosquito. And no one seems to expect or predict that Zika will be completely gone from Brazil in time for this year's Summer Olympic Games being held in Rio de Janeiro in August.
In the meantime, the U.S. Congress has the power to fund Zika prevention and a search for a vaccine, but politics, once again stands in the way of progress. It's been more than two months since President Obama asked Congress to approve $1.9 billion in funding to fight Zika, but so far there's been no vote. As a stop gap measure, the Obama administration has reallocated funds set aside during the Ebola crisis to combat the spread of Zika.