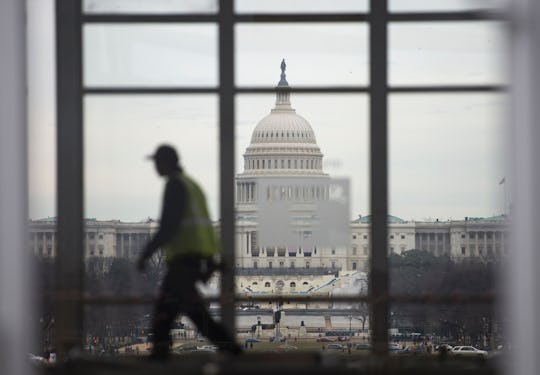 ANDREW CABALLERO-REYNOLDS/AFP/Getty Images
Here's What You Can Bring To The Women's March
President-elect Donald Trump will be sworn in as the new POTUS on Jan. 20, but anyone who isn't particularly pleased about that might be more excited about Jan. 21. That's the day an estimated 200,000 people are planning to join the Women's March on Washington, a mass demonstration advocating for women's rights. The Women's March has grown from a grassroots protest being planned on Facebook to a massive event backed by political organizers and advocacy groups, including Planned Parenthood, who has signed on as an official event partner, according to The Guardian. What can you bring to the Women's March? With an event this large, proper planning is key. Here's what you'll need to know if you plan on attending.
Despite some initial setbacks — including some difficulty securing a permit at the original location in front of the Lincoln Memorial, according to The Washington Post — the Women's March is now expected to be the largest demonstration linked to the inauguration. The march will now be beginning at the intersection of Independence Avenue and Third Street SW in downtown Washington, with a rally set to start at 10 a.m. And, according to the Women's March website, security is "a top priority": in addition to working with local law enforcement and city agencies as per the issued permit, the Women's March organizers have hired private security, and will also have "over 1000 trained marshals in place to help maintain order and to provide direction to marchers."
What that also means though, is that there will be strict rules about what is and isn't allowed at the march. According to the Women's March FAQ page, "all backpacks and bags may be subject to search," and that "those not conforming to the standards" may be confiscated. Specifically, that means that backpacks will not be permitted, unless they are clear (colorless, not just transparent) and meet the maximum size restrictions (17"x12"x6"). Any bags for personal items (aka, a purse) must be no bigger than 8"x6"x4", though attendees are permitted to bring "one additional 12"x12"x6" plastic or gallon bag" for carrying food.
Looking to carry a sign or poster? You can, but there are rules about that as well. Wooden sign posts or flagpoles are not permitted (although flags on their own are fine), and the official recommendation is that anyone wishing to bring a sign make one from cardboard. Bikes and folding chairs are also not allowed on the march route or rally area (though you can, of course, bike to the event if you choose). Canes, walking sticks, and other mobility devices are allowed for anyone who requires them.
Planning on bringing your baby? Any supplies (including breast pumps) will need to fit into the aforementioned clear backpack. The website also states that there will be a lactation area set up for breastfeeding moms, though the exact location hasn't yet been determined. Anyone who might be looking for more parent-related info (or maybe just to connect with other march-going moms) can also check out the official Women's March on Washington Parent Resource Facebook group.
Perhaps the most important thing to consider, though, if you're headed to the march (other than the fact that the march itself is meant to be entirely law-abiding and peaceful), is that, well, you will be outside and it will probably be cold. The weather is forecasted to be hovering somewhere in the 50-degree Fahrenheit range, according to Accuweather, though event organizers have recommended that attendees dress for "extreme cold" and wear "very warm clothing," regardless of the forecast (and that's good advice because, seriously, standing outside for hours if you're not dressed warmly enough won't be fun in the slightest).
Not located near Washington? Unofficial marches will be taking place in other states, as well as in select cities around the world. Just flat-out unable to attend but want to show your support by making a donation? The Women's March on Washington's Crowdrise page is accepting online donations. And if you are planning to attend the Washington march but haven't yet registered, you can do so here.